A meter box can be installed provided that all other alternatives for the protection of your water meter have been considered.
Meter boxes consist of a trafficable cast iron lid with a plastic underbox or a trafficable plastic cover with a plastic under box. These boxes can only be installed when the service is up to and including 50mm in diameter and the backflow risk is deemed as being low or medium.
Only one meter box and two covers have been approved for use by Water Corporation, both covers are trafficable when used together with the approved box. No part of the box or its supports are to be within 500mm of any power dome.
All meter boxes are installed by us or our approved installers providing all of our safety requirements are met and subject to the agreement of the following conditions:
It is the owner/applicants responsibility to:
Provide the surround by using either standard brick pavers (230mm x 115mm x 65mm) or a concrete surround (230mm x 230mm x 100mm thick)
Ensure a clearance of 300mm around the entire box and 1200mm above the box is maintained. This includes boundary fences or walls.
Ensure that a build up of soil inside the box does not happen which may cause problems during reading and maintenance to the meter.
Ensure the internal box is clear of dangerous insects and spiders.
No part of the box or its supports are to be within 500mm of any power dome.
Obtain local authorities written approval if box is to be located in a road reserve.
If the ground level of the current placement is altered in future, the owner will have to make an application to us and pay the costs associated to raise or lower the meter to that level.
Any future reinstatement of the surrounds due to ongoing maintenance will be the owners responsibility unless using standard pavers as described above and providing the pavers are in good condition we will relay pavers to an adequate standard.
A licensed plumber must relocate any internal pipework required as part of installing a box.
This diagram illustrates the typical layout of a 20mm water meter positioned in a trafficable box and cover.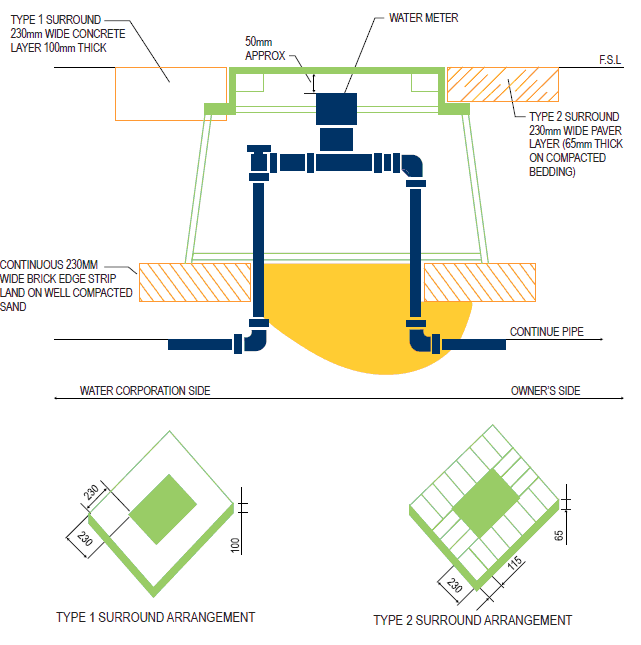 More information
For the cost of a meter box, please refer to our water supply service fees.
Please complete our enquiry form if you require further information.