Find out how to apply for a cut in junction, how to find an existing junction and how to report a lost one.
Generally, when a sewer main passes a property a sewer junction will exist. However, this will not always be the case and a request for a new sewer junction may be needed.
To determine the approximate location of sewer junctions, please lodge an enquiry for plans with Before You Dig Australia (BYDA) or call 1100. Please use the BYDA legend to assist in interpreting these plans.
In 2 lot strata schemes we encourage separate junctions to avoid potential disputes if the shared line is damaged or there is a blockage. Additionally to reduce the chances of plumbing being impacted by building activity, property sewer lines may need to be relocated to within 600mm of the property boundary, in which case a second sewer junction may need to be cut in.
Typical sewer connection for strata lots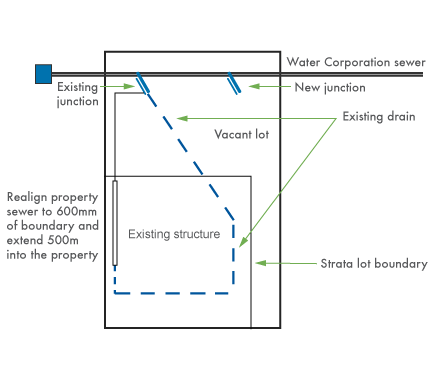 How to apply for a sewer junction
You can apply to have a sewer junction cut in by selecting 'Lodge a sewer application' in BuilderNet.
How to schedule in a sewer junction cut in work order
You must have received prior approval from our operations team to work near our assets by applying for an Asset Protection Risk Assessment (APRA) before scheduling in your work order with us. Our current turnaround is up to 28 days for an APRA, please allow for this turnaround time when planning your work.

Once your APRA has been issued please call us on 13 13 95 to schedule in your work order.
How much will it cost?
The fee for cutting in a sewer junction is based on the size of the sewer junction. In some cases, such as built up areas, this fee may need to be quoted. For information about our fees for cutting in new sewer junctions, please refer to our Sewer services fees page.
When a sewer junction does not already exist on a property, Wastewater Infrastructure Contributions may be payable upon request to connect. To find out more contact us.
What if the works impact a neighbouring property?
Other than the lot to be serviced, if another property is impacted by excavation works, permission must be obtained from relevant owner(s) prior to application.
What if I can't find an existing sewer junction?
When locating a sewer junction you may need to excavate at least 1 metre either side of the junction position and 600 mm deeper than the depth shown on the e-plan.
If you haven't been able to locate it, please report the lost junction to us on 13 13 95. When making the report, you will need to have current approval to connect to the sewer and the name of the licensed plumber responsible for the site.
How to report a lost junction
Lost junction reports must be made by a licensed plumber, who can confirm that the above instructions have been followed prior to making the report. If a junction is subsequently located within the above limits, we may seek to recover our costs from the licensed plumber responsible for the site.
What your plumber will need to do:
Safely secure the excavation site, pending resolution.
If the site cannot be secured, the excavation area will need to be back-filled. Take photos of the site before back-filling to support your lost sewer junction report.
When the report is made, we will provide a resolution date.
How to find the sewer connection point
When we process an application for a sewer conversion, we provide copies of a plan of the sewer (called an e-plan) to help locate the sewer connection point. To prevent damage it is important that the location and depth of the sewer connection point is confirmed before starting work (in particular if the connection is long or 'in and up'). Measurements are provided on the e-plan.
Providing as constructed information for a new cut in junction
Plumbers must follow the steps below when providing as constructed information for a new sewer junction.
A licensed plumber excavates the sewer main, ensuring safe entry
Water Corporation installs an off take junction to the sewer main
Water Corporation measures the off take junction position, relative to the downstream access chamber or maintenance shaft. If we can't get a measurement, the off take junction will be located relative to the property boundaries.
Water Corporation records the measurements on a minor works as constructed - sewer work sheet.
If required, a licensed plumber constructs an extension or 'ins' and 'ups' and records the measurements on our As constructed sewer form. Refer to our guide on How to provide as constructed information.
Licensed plumber submits the completed form to Water Corporation.
More information
Please complete our enquiry form if you require further information.