Building on a residential property
A list of information specific to building a house, shed, garage, carport, swimming pool, spa or retaining wall on a single residential property.
Prior to submitting your building application, you should determine the location of any Water Corporation assets that exist on the property involved.
Sewer reticulation pipelines (which typically includes sewer pipelines that have a diameter of 300mm and smaller) are the most common type of asset found in private property. Occasionally sewer mains, sewer pressure mains, water supply pipelines and stormwater drains are also found.
Find out how to lodge residential and non-residential building applications, including minor applications for sheds, garages, carports, swimming pools and spas and retaining walls in our lodging a building application section
If you have found an asset close to your proposed building or structure, and you have exhausted all options to redesign your work (preferred option) or relocate our asset, then you may need to consider piling to:
isolate the asset from excessive loading from your building or structure
allow safe access to the asset for maintenance and repairs
provide structural support to protect your building work from the risks of asset bursts and failures.
Refer to our Residential Guidelines for Designers which provides a summary of the minimum horizontal clearances required between sewer reticulation and residential buildings and structures.
We provide 2 different horizontal clearances:
Clearances for buildings and structures without piles – buildings and structures without piles (or other footing) are not permitted as close to our sewers.
Clearances for buildings and structures with piles – if you provide your building or structure with piles (or other footing) that extend below the zone of influence (or to refusal in stable rock) then we will allow you to build closer to our sewers.
The horizontal clearances have been developed based on the zone of influence (which is explained further in Section 7 of our Working near our assets technical guidelines) and depends on the depth of the sewer and the type of material involved.
An easement is a part of land that Water Corporation has legal permission to access for maintenance or repair of an asset. If you have an easement on your property, it will be registered on your title deed outlining where restrictions may apply. An easement may affect the approval of your proposed building or structure but generally, an easement can be built up to or even over, as long as you adhere to the requirements in our Working near our assets technical guidelines.
Piling involves a technique that installs foundations into the ground to provide support to the structure.
Piles are commonly used to enable buildings and structures to be built within the zone of influence of an asset by transferring loads below the zone of influence, thereby isolating assets from excessive loading. Piling design for sewer reticulation assets shall be designed by a suitably qualified practicing professional engineer who has appropriate structural engineering experience, and is a holder of our current design standards.
As a general guide, piles should be founded to a depth that is at least 300 mm below the zone of influence or to refusal in stable rock, such as limestone.
Where piling is required, the following information must be provided:
a pile detail with building plans including the depth and width of piles indicated
a site plan showing the position and spacing of the piles.
Note: the pile detail and site plan must include both the date and the signature of the structural engineer, which must be clearly visible.
The diagram below provides an example of a pile detail: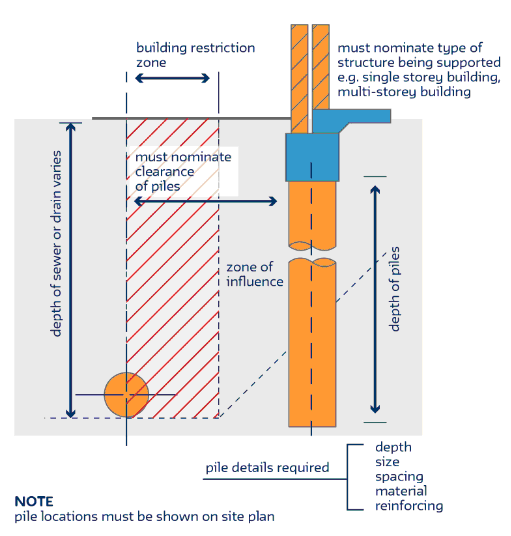 More information
Please complete our enquiry form if you require further information.