Properties with access to water or wastewater services pay service charges – even if there is no connection. This contributes to the cost of providing and maintaining essential services.

Drainage charges may also apply for metro areas. If you use any water on your vacant land, your bill will also include water use charges.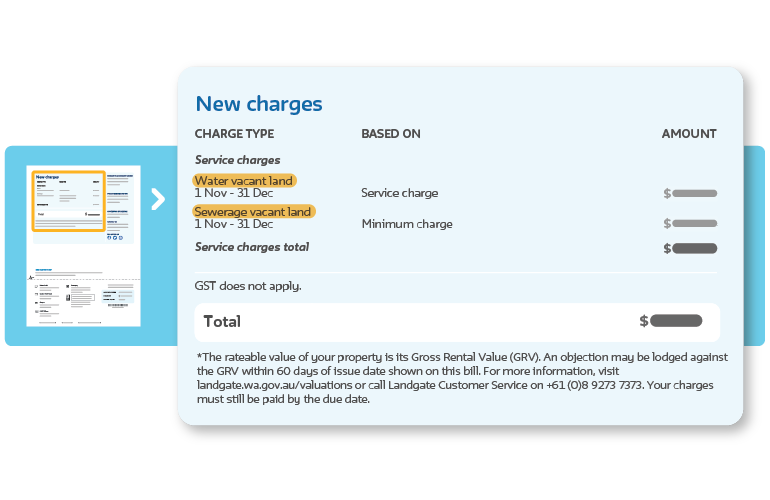 Water service charge
For vacant land the water service charge is the same as residential properties at $282.59 per year.
Metro sewerage and drainage service charges
For vacant land these charges are based on the rateable value or gross rental value (GRV) of the property.
The sewerage rate is 2.430 cents in $ GRV.
The minimum sewerage charge for vacant land in the metro area is $352.94
The drainage rate is 0.712 cents in $ GRV.
The minimum metropolitan drainage charge for vacant land in 2023–24 is $132.34
Drainage charges do not apply to regional customers.
Regional sewerage charges
Regional sewerage charges are calculated based on the rate in the dollar $ for GRV which is set independently for each country town sewerage scheme and published each year in the Water Services (Water Corporations Charges) Regulations 2014.
The minimum annual charge is $308.88
The maximum charge (for vacant land held for residential purposes) is $1,281.51
Vacant lots created by subdivision
Vacant lots created by subdivision receive an exemption from service charges for up to 12 months from the approval date.
The exemption ends when one of the following occurs:
The property is sold within the 12 month exemption period
A water or sewer connection is made to the property within the exemption period
The 12-month exemption period expires