Advice Article
Access to your meter
It's important to keep your meter clear and accessible.
Our meter readers visit your property every 2 months to take a reading from your water meter. If we cannot access your meter, your water use may be estimated.
It is your responsibility to ensure that your water meter is clear and safely accessible by our meter readers. You can help make this easier for us by:
Keeping surrounding plants trimmed
Clearing excess sand and mulch
Ensuring that landscaping such as paving and decking are not covering the meter
Applying for a meter relocation
Installing a WAS Lock or remote access meter (see below for more information).
Please be aware under the Water Services Act 2012 and Regulations you are legally required to keep your meter clear and safe to access.
Your meter and your dog!
We love dogs, but if there's a dog on your property who is not secured away from the meter area, our meter readers will not enter to read the meter.
Keeping your water meter clear and accessible
The area around your water meter should be 30 cm clear, and have at least 120 cm of open-air above: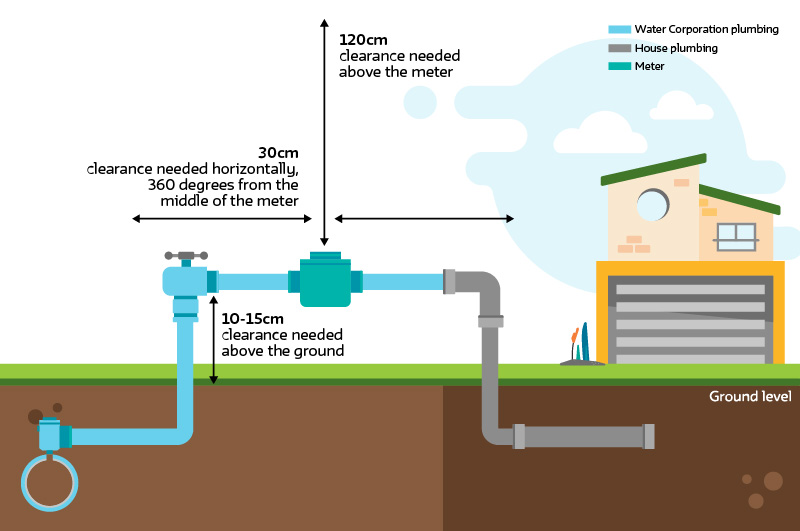 Remember we not only need to get to your meter to read it, we also need to access it for repairs and maintenance.
If we aren't able to access your meter easily, we will let you know and ask that you clear the meter.
If you don't do this, we may issue you with a compliance notice.
If the obstruction still remains after the compliance notice is issued, we may remove the obstruction or relocate the meter at a cost to you (under the Water Services Act 2012).
Water meters located behind locked gates
Install a Western Australian Services (WAS) lock
We might not be able to access your meter if it is located behind a locked gate. If you would like to provide access but also want to maintain security, you can install a Western Australian Services (WAS) lock.
WAS locks are padlocks that only ourselves, Western Power, Synergy and Alinta Gas have keys for. They are available from licensed locksmiths and security suppliers.
If you install a WAS lock, please contact us on 13 13 85 so we can let our meter readers know.
Request a remote access meter
A remote access meter is similar to the meter already at your home or business, but it's fitted with an electronic device that allows the meter to be read by a handheld Bluetooth device from outside the property boundary.
It's a good option if your water meter is in a courtyard or enclosed area, if you have a dog or if you are providing self-reads regularly.
To request a remote access meter, please call us on (08) 9423 7134 and we can make arrangements. The cost to install and use is $200.33.
Please note: Access issue Smart Meters are only available for the metro area. This option isn't available for country regions.