Saving water during shower time
In this article
Simple tips for saving water in the shower
Why you should switch to a water efficient showerhead
How to find waterwise approved products to help you save water in the bathroom
Showers make up almost 22% of the average household water use making it one of the best places to reduce your water use in the home.
Should I shower or bath?
It's not uncommon to think a bath wastes water, but you might be surprised to hear, if you bathe wisely it can often use less water than taking a shower. It does depend on a number of factors such as the size of the bathtub, how much you fill your tub, what type of showerhead you use and how long you shower for.

Some tips for bathing the water friendly way include:
Don't overfill your bathtub – only use as much water as you need.
Keep an eye on the water temperature – adding more water to get the optimal bathing temperature leads to a fuller tub which is wasteful.
Consider using your leftover bathwater on the garden, just make sure you're using soaps that aren't harmful to the environment. You could even use your bath water to wash your car!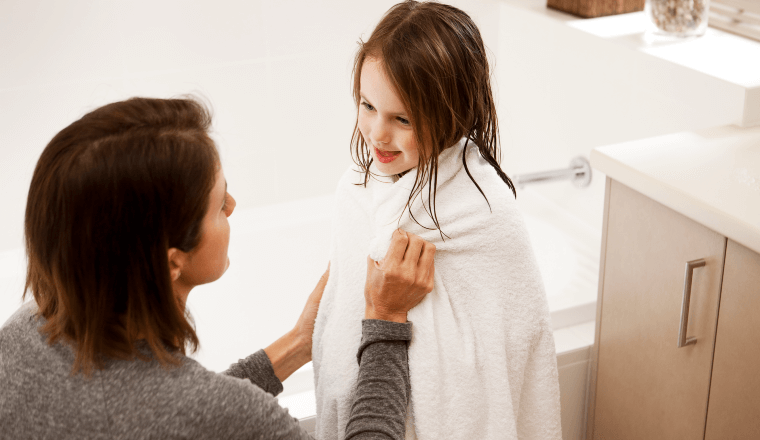 Ways to save water while in the shower
Is your shower ritual using up more water than you should? Then it's time to adjust your current habits and avoid the wrinkly fingers with some of these handy water saving tips in the shower.
Spend less time in the shower
To save water in the shower, aim to get your shower time down to 4 minutes or less. Use a shower timer or your favourite 4-minute song to time your showers.

Need a little help to stay on track? Pick your favourite track to listen to in the shower from our waterwise shower songs playlist on Spotify.

Momentarily switching off the shower when you don't need the water to flow, like when you're soaping up, shampooing or shaving can also save you lots of water.
Brush teeth at the sink, not in the shower
Did you know, brushing your teeth in the shower can use more than 9L a minute? While it may seem like the waterwise thing to do, brushing your teeth in the sink is much more efficient. You only need a few seconds to wet your toothbrush and rinse after use, so it's best to stick with the sink.
Switch to a water efficient showerhead
The type of showerhead you use makes a huge difference when it comes to saving water in the bathroom. By installing a water efficient showerhead, your household can save up to 20,000L of water per year. Make sure to look for the stars on the WELS label. The more stars, the more water efficient the showerhead is. Be sure to also look at the flow rate (litres per minute) as this can vary substantially. To be considered water efficient, a showerhead must use 9L of water or less per minute.
Check your eligibility for our waterwise offers
Each year, we have tailored rebates and offers available in Perth Metro and regional towns across WA to help you save water in your home and garden. They include offers for water efficient showerheads and free irrigation and plumbing services. View current offers and check your eligibility.
Put a bucket in the shower
Don't watch the shower water go down the drain while you wait for it to heat up. Collect the cold water in a bucket and use it to water your plants. You could be catching as much as 10L for every minute you're not in the shower.
Choose water efficient fittings
Go for WELS 6 rated taps in the bathroom or install flow-controlled aerators. To help with the installation, contact a Waterwise Plumber.
Waterwise product advice
Using waterwise approved products such as water efficient showerheads will help you save water in the bathroom. Together with Australia's water conservation label, Smart Approved WaterMark, our waterwise product endorsement program makes it easy for you to identify these products.

Before purchasing new bathroom appliances check for the Waterwise and Smart Approved WaterMark logos, or browse recommended products on the Smart Approved WaterMark website.