Crown Perth Sustainability
Key achievements
96% water use reduction in toilets
Scheme water use down by 51,000kL a year
At Crown Perth, we've been making it our priority to reduce waste, save water and energy for over 15 years.
We joined the Waterwise Business Program in 2007, prompting water audits across our casino, convention centre and hotels. Several water-saving measures were identified and actioned, which ensured we were well on our waterwise way.
Since then, our property has almost doubled in size and footprint, resulting in a demand for more facilities, making efficient water management even more critical. Our resort pools are one of the biggest consumers of water so as we expanded, further requirements to install more toilets across the property at new venues and throughout the casino was a key priority.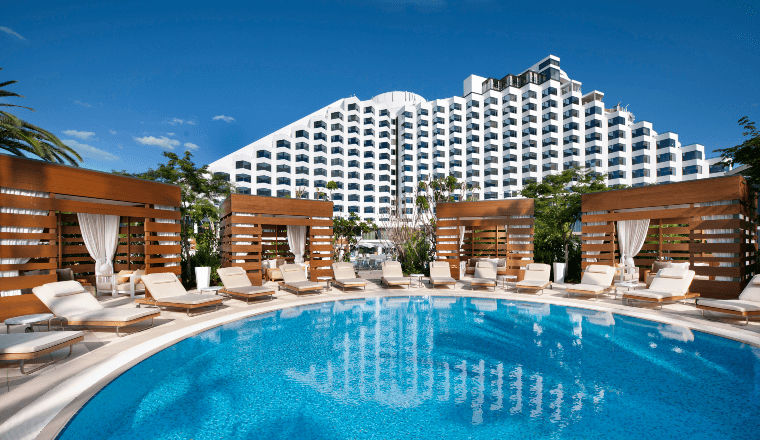 Crown Metropol
Big water savings
96% drop in urinal flushing water use from the new urinal flushing system
Scheme water use down by 51,000kL a year switching to bore water to irrigate gardens
"Since embarking on the one to five program with Water Corporation, Crown Perth has been involved in water saving initiatives and has since saved in excess of 1 million kilolitres of water" – Tony Fioraso, General Manager Property Services – Crown Perth.
"Staff involvement and continuous engagement have been pivotal to our success," he said.
How did we do it?
The number of visitors, booked accommodation, our local, national, and international hotel guests, and even the weather all impact our water consumption.
We've implemented new initiatives and water saving measures beyond minimum standards to further reduce our water use. Our extensive network of 130 submeters across all operational areas are reviewed regularly to ensure any irregularities can be identified, which we then investigate and action without delay.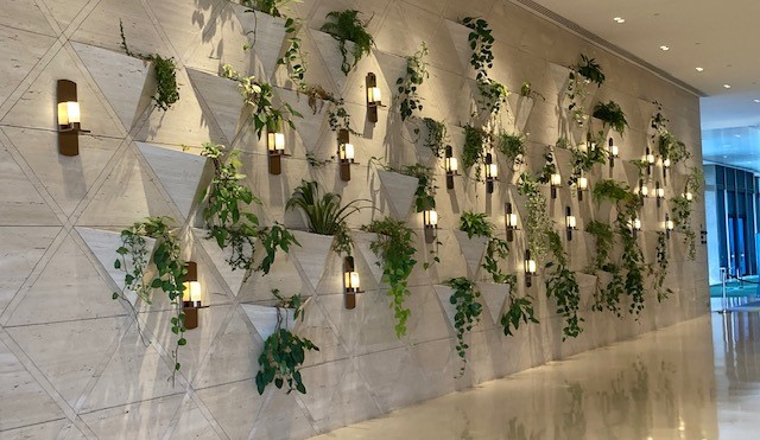 Crown Towers living wall.
Upgrading fixtures
We've carried out numerous water-saving upgrades throughout our hotels and toilets across the resort, including:
An automatically controlled urinal flushing system was installed on urinals to adjust the frequency and duration of flush times. The addition of a bio sleeve has also helped to minimise water use and odour and prolong seals, reducing resort-wide urinal water usage by an impressive 96%.
Installation of aerators and restrictors on hand basins has reduced flow from 9 litres to 3.5 litres per minute in Crown Metropol and Crown Promenade.
Guest and back-of-house showerheads were upgraded to water-efficient fixtures, which has reduced water use from 12 litres per minute to 8 litres per minute.
Water-saving changes in the kitchens
We have improved water efficiency in our commercial kitchens by upgrading equipment such as our dishwashers and switching to waterless woks.
We also use sub-meters to monitor our kitchen water usage and conduct regular audits to identify and correct inefficient water use practices.
Enhancing our irrigation and gardens
Significant changes were made to our irrigation practices. The biggest was switching to a bore system to irrigate multiple parks and gardens across the property. As a result, we've reduced scheme water use by 51,000kL per year.
Waterwise plants have been introduced to limit the amount of watering required.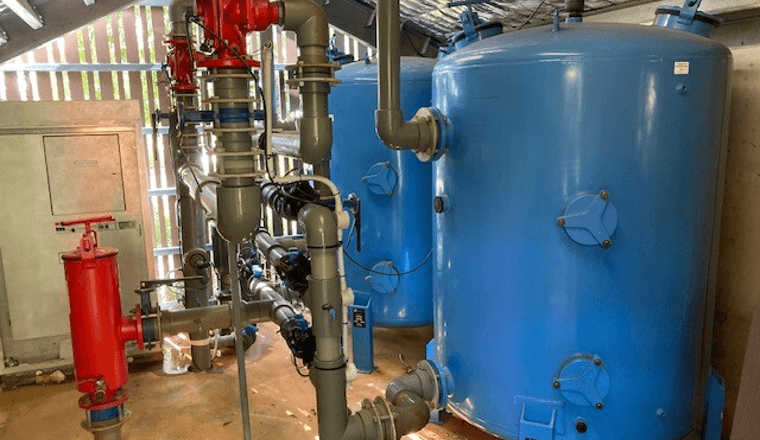 Bore iron water filter
Other water-saving initiatives
We carry out remote monitoring of our biggest consumers of water – the resort swimming pools and cooling towers, with data sent weekly for review. We're also notified by SMS when the conductivity levels of our cooling towers fall below a set point. This alerts us that excessive water is being used or there is a leak so we can action accordingly.
What we're doing now
We continue significantly reducing water use across our operations through these water-saving measures and many other initiatives. We're currently looking into the benefits of rainwater harvesting and how it could be applied around the resort. We plan on working closely with the Water Corporation and swimming pool contractors to investigate how we can further gain efficiencies to our current RO water system operations and how we can further save in this space.
We're proud to be consistently recognised by Water Corporation and for achieving Platinum Waterwise recognition in 2022.