When to DIY or call a Waterwise Specialist
In this article
How your irrigation set-up can help your garden thrive
When to DYI, and when to call an expert
Choosing the best expert for your project
Perfecting your irrigation is an important part of creating a thriving garden. While there are some parts you can DIY, there's a lot to gain from seeking out an expert.
Why it's worth getting expert advice
There are lots of irrigation options to choose from. It can be overwhelming to assess the best option when you're starting from scratch. Or if you have an existing irrigation system you're wanting to refresh.
Select the right irrigation product for your garden by consulting an expert. Visit your local Waterwise irrigation design shop or contact a Waterwise garden irrigator.
Waterwise specialists have extensive expertise in irrigation and landscaping. They can help you adapt your garden to WA's unique climate.
A Waterwise garden irrigator can work with your existing irrigation system or provide advice on a new one. They'll look at the unique shape, size and contents of your garden to optimise your set up.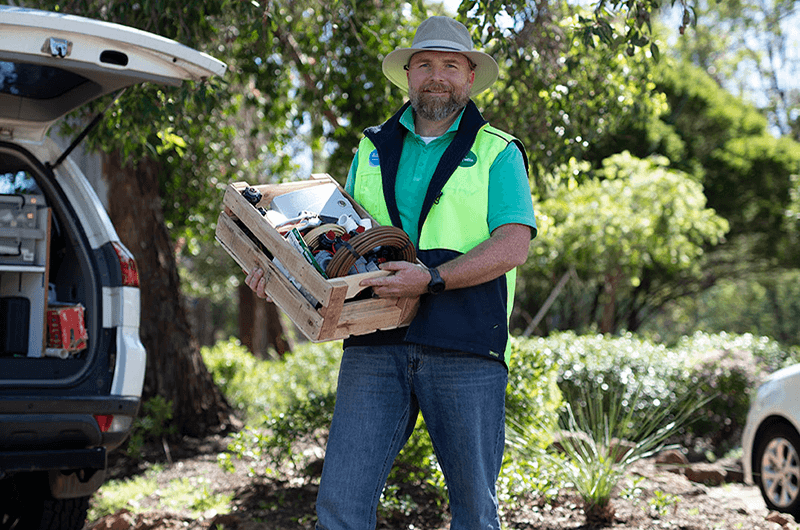 DIY your seasonal adjustment and testing
Once a professional Waterwise garden irrigator has set up your system, it's your turn to DIY.
Change your irrigation with the seasons
Matching your watering to the seasons throughout the year will help you to save water. And it's all your garden needs.
Set your sprinklers at 100% during the hotter months of January and February. In winter's shoulder months (May and September), only use your sprinklers as necessary.
Test for optimal efficiency
You can also perform a quick and easy test of your irrigation system to identify any leaks or faulty solenoids. Use your rostered watering days to do this test. You'll be making the most of your water, and could stop small issues from becoming big problems.
The benefits of a smart irrigation system
Some of the best irrigation controllers available are weather smart irrigation controllers. These use your Wi-Fi network to adjust your watering to the local weather conditions. If it's pouring with rain, the system will take a day off and help you save water.
The biggest perk is knowing that your lawn and plants are being watered the right amount at the right times. When you get these two elements right, you're setting your garden up for success.
Automatic irrigation also means that you don't have to worry about your garden when you go on holiday. You can leave your irrigation controller to do the work for you.
How to pick a specialist
Get started by searching for an expert near you. Your local specialist will be able to assess the best options to help your garden thrive. They can run through the price and installation needs before you commit to any work.
Setting up a new irrigation system
Not sure what you're after, or starting from scratch? Find your local Waterwise irrigation design shop. You can see the range of products and chat with an expert about what would work best for your garden.
Getting the most out of your existing irrigation system
Got an existing irrigation system in place that isn't working quite right? Or do you have a damaged system that needs repairs? Call a Waterwise garden irrigator to take a look at it for you.