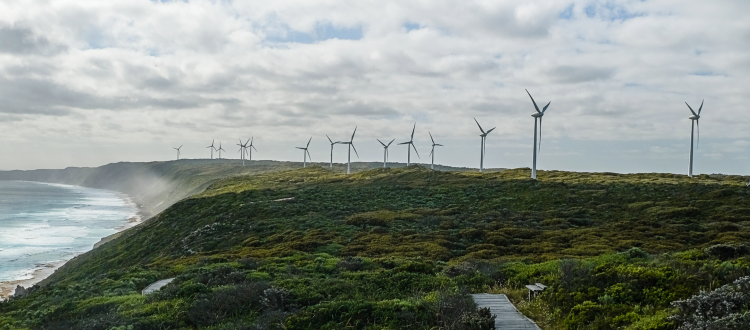 Climate and the Great Southern
Southern WA is known for its Mediterranean climate, with very hot and dry summers and most rainfall in winter.
But every decade since the 1970s, the region's summertime maximum temperatures have risen, and winter rainfall has fallen. Winter rainfall in the Great Southern has already decreased 13% since 1968.
This trend is set to continue. Almost all climate models project a further drop in winter rainfall. The region already has very hot days in summer, from the heat brought from the desert's easterly winds. As climate change worsens, these winds are projected to get more intense, bringing more heat.
Reduced rainfall driven by climate change and growing demand are placing pressure on existing groundwater sources that supply over 90% of drinking water to the Lower Great Southern Towns Water Supply Scheme.
Modelling predicts aquifer recharge in existing groundwater abstraction areas west of Albany will fall by up to 18 per cent by 2050, driven by an 18 per cent decline in winter rainfall over the same period.
Work to ensure the long-term security and sustainability of drinking water in Western Australia's Lower Great Southern is gathering pace, with planning underway for the region's
next major water source
.
Did you know?
Denmark, like other parts of the Great Southern, is at the forefront of experiencing the impacts of climate change through declining rainfall. This means Denmark can no longer rely on its dams as the sole source of water supply, as the town no longer receives consistent, annual rainfall.
This trend led to the decision to build a pipeline to connect the town to a wider scheme to secure water supply in the longer term. Over the past few years, we have worked closely with the Denmark community to look at ways of saving water, and to deliver a 43Km pipeline which will connect Denmark to the Lower Great Southern Towns Water Supply Scheme in Albany. Find out more about .the project
We can all help
Remember every drop of water counts and it can all add up to big savings. Find out what you can do to save water starting today.
Great Southern water supply
The impacts of climate change are being felt even in the Great Southern. See how we're responding to further secure water supply in the region.
Find out more