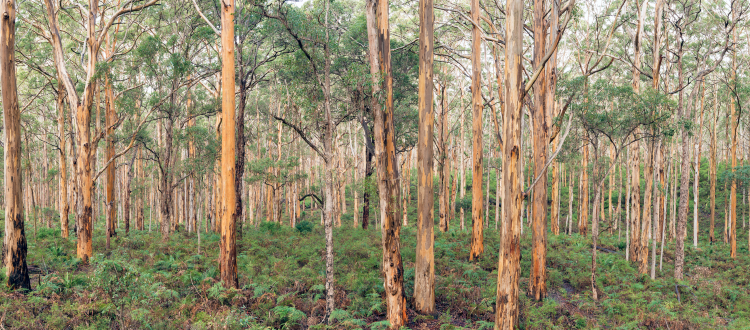 Climate and the South West
Home to rugged coastlines, white sandy beaches, rare species, tall timber forests and great wine, our South West has been impacted by reduced rainfall.

Since the 1970s, rainfall in the South West has reduced by around 20%. According to predictions, the drying trend will continue with winter rainfall forecast to decrease by 15% by 2030. The projected drop in the number of deep low-pressure systems that produce winter rainfall in the South West means much less rain for the region.

A 20% drop in rainfall may not sound much until you consider the impact it has on streamflow – the water that runs into our dams. The decline in rainfall has seen streamflow reduce by an average of over 80%! And it all has to do with dry catchments.

Declining rainfall means the soils in our catchment areas are a lot drier than they used to be. So, when rain does fall, they act like huge sponges soaking up the water. This leaves us needing a lot more rain to soak into the soils and eventually release water into our dams. So, even if we get decent rainfall in any 1 year, we'll still get a lot less runoff into our dams than we would have from the same amount of rainfall, several years ago.
Securing drinking water supplies
Population growth, limited water resources and growing industry and agricultural demand, presents major challenges in the region. Groundwater sources and local dams provide most of the region's water. South West dams will continue to be important water sources but our drying climate means we can't rely on them alone in the future. We've been expanding water supply schemes and developing new groundwater sources in recent years.

Bunbury (excluding Dalyellup) and Busselton are serviced by independent water providers – Aqwest or Busselton Water.
Did you know?
More wastewater by volume is recycled in the South West than any other region in WA. On average, we recycle 27% of the region's wastewater. This amounts to 3.7 billion litres each year and we're well on our way to reaching our target of 30% by 2035.
Major recycling schemes include the Margaret River recycling scheme, Busselton Golf Club Irrigation scheme, Kemerton, Donnybrook, Nannup and Manjimup tree farms. We're also looking for opportunities to increase water recycling for public open spaces and industrial use..
We can all help
As part of our 2035 goals, we're committed to educating the community on climate change impacts and driving water outcomes. Find out how you can save water around the home.
South West water supply
Reducing water use, increasing water recycling and developing new water sources is how we're addressing climate change in the South West.
Find out more