We have a long term plan in place to secure our water future for generations to come and ensure Western Australians have the water services they need to sustain our unique lifestyle.
We first released our 50-year plan to secure Perth's water supply in 2009, in response to the early signs of a drying climate and with extensive consultation with the community. We followed this with a second 10-year plan in 2011.
Since the 1970s rainfall has reduced by around 19% but streamflow into our dams has declined much more dramatically, reducing their role in our drinking water supplies. Over the last decade, we have introduced new climate independent sources of water - seawater desalination and groundwater replenishment - to help secure Perth's water supply.
By 2030, providing our water use reduction and recycling targets are met, we expect a further 70 to 100 billion litres of additional climate independent water will be required to support Perth's water needs.
Our plan for Perth
We will secure Perth's water supply into the future by:
Continuing to help Perth households and businesses use even less water and make greater use of recycled water.
Expanding our Groundwater Replenishment Scheme and investigating further opportunity for reuse of treated wastewater.
Increasing the capacity of our existing desalination plants and investigating new desalination plants at Kwinana and Alkimos.
Transferring our groundwater abstraction to deeper aquifers to protect the groundwater environment and secure our groundwater supplies.
Using wastewater recycling as a resource for industry, public open spaces and agriculture.
Continuing to make gains in water use efficiency, while preserving our outdoor lifestyle and enabling continued growth of our beautiful city and state.
Our plan for Western Australia
In response to strong state growth led by the resources industry and the impact of climate change, which has reduced rainfall in the South West, we are accelerating planning to increase climate resilience and upgrading services to meet the needs of growing communities.
We will continue to deliver sustainable water and wastewater services to our customers:
In the South West, the Bridgetown Regional Water Supply Scheme is supplemented with groundwater from the Yarragadee aquifer and will be expanded to progressively connect other towns.
Through planned investment we aim to strengthen the Great Southern Region's climate resilience by working towards interconnecting more schemes and exploring new water sources.
In the Goldfields Agricultural Region, our focus will be on maintaining the Goldfields and Agricultural Water Supply Scheme and supporting the expected population growth in Esperance.
With growth expected in the Mid West, we are using a staged approach to expand the borefield supplying the Geraldton Regional Water Supply Scheme and focussing on increasing the town's wastewater capacity.
For the fast-growing North West, our priority is to deliver more water and wastewater services while working with the community to reduce the region's high water use. We are making major investments in the investigation and development of new water sources and upgrading existing schemes, in some cases, in partnership with resource companies and State Government.
Across the state, we are also committed to recycling 45% of the wastewater we manage by 2030.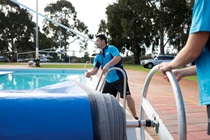 Working with industry
We work with local governments, industry and business to reduce demand on our water sources.
Find out more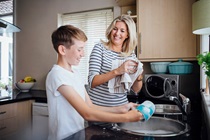 Your water use
Are you as waterwise as you think? Use our handy tool to compare your water use with similar homes.
Find out more