Canning wastewater upgrades
Project goal:
Upgrading wastewater infrastructure within the City of Canning to ensure we can continue to securely dispose of wastewater for the growing community.
Status:
In planning
Delivery Date:
2022
What's happening?
We are proposing to install a second wastewater pipeline from the existing Richmond Street Pump Station, crossing underneath the Canning River and connecting to our existing pipeline along Bergall Court, Ferndale.
The work includes:
Construction of approximately 600 meters of underground wastewater pipeline to connect the upgraded pump station to existing infrastructure
Crossing under the Canning River
Where is this happening?
Work will take place from the existing Richmond Street Pump Station in Canning, crossing Carden Dr, along the Greenfield St footpath and going underneath the Canning River to connect to existing pipeline along Willcock Street, Ferndale. Please see map bellow.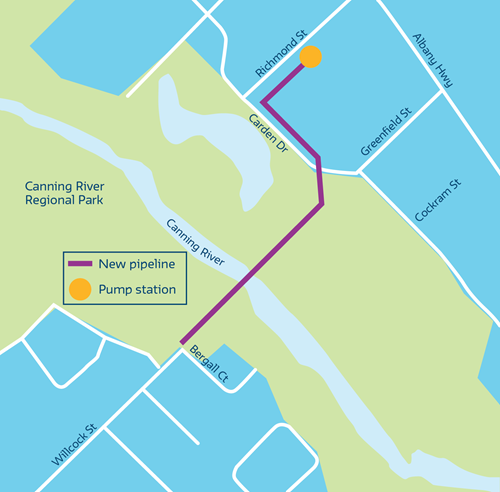 Why is this taking place?
Our Richmond Street Pump Station is a collection point for wastewater from several areas in the south-eastern metropolitan region. The wastewater is disposed of using the Cannington Main Sewer and ultimately treated at the Woodman Point Wastewater Treatment Plant.
This second wastewater pipeline will ensure we can continue to securely dispose of wastewater in the City of Canning and the wider metropolitan region.
When is this taking place?

Our current planning anticipates construction to start in 2022, this is subject to change as we work with the community and government agencies to receiving all required approvals. We estimate the work will take around eight months to complete.
How will this impact the community?
As with any construction activities, you will notice an increase in activity, truck movements and noise while we build approximately 600 meters of new pipeline.
Traffic management will be in place to safely direct vehicles and pedestrians around the work area. The pedestrian footbridge across the river will remain open and a temporary dual path will be in place for the duration of the work.
We are committed to minimising the impact on the community as much as possible during the construction work. Please be assured that where possible, any affected areas will be restored to their condition before the work.
We are working with our environmental team, Department of Biodiversity, Conservation and Attractions (DBCA) and the City of Canning to restore the vegetation impacted by our work.
Contact us
Carina Harris, Community Engagement Advisor
(08) 9420 2278
carina.harris@watercorporation.com.au
Related documents