Mandurah Terrace pump station upgrade
Project goal:
Essential technological upgrades to the Mandurah Terrace pump station.
Status:
In construction
Delivery Date:
Autumn 2020
What's happening?
We are undertaking some essential technological upgrades to the Mandurah Terrace pump station. We will be replacing and upgrading the existing electrical switchboardsimprove the reliability of the pump station and its ability to support the growing community in Mandurah.
Where is this happening?
The Mandurah Terrace pump station is located on the Mandurah foreshore near the Mandurah Visitor Centre.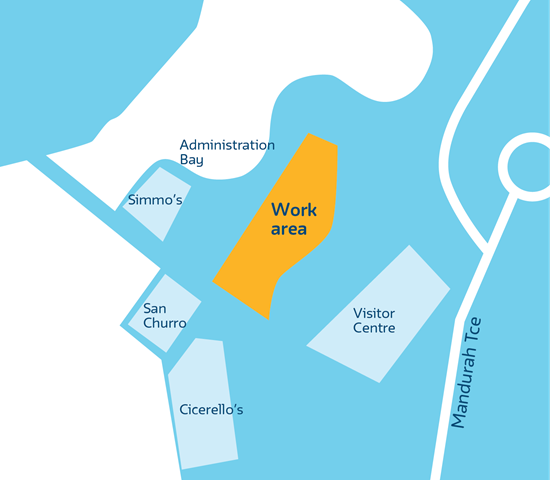 When is this taking place?
Work commenced Monday 30 March 2020 and is planned to be completed by May 2020.


How will this impact the community?
For the safety of visitors and the community, the area around the Pump Station will be fenced off for the duration of the works.

Safety is our priority and our contractors will ensure all prevention and control measures are in place to minimise the impact on the community and respect social distancing requirements.

Noise and increase in activity

Businesses and visitors may notice an increase in activity and noise in the area but this is a minor construction site and we expect there to be minimal disruptions while work is in progress. We will work closely with surrounding businesses to minimise disruption as much as possible.
Reinstatement of impacted areas

All areas impacted throughout the work will be reinstated to as close as original condition as practically possible. Reinstatement of the impacted landscaping will be completed during winter 2020 by the City of Mandurah.
Urgent issue or enquiry?
If you have an enquiry or issue requiring immediate actioning onsite please contact Avid Resources Electrical Works Supervisor, Sean Slater 0417 913 841 (office hours) or Sean.Slater@avidresources.com.au
Contact us
Lina Peche, Community Engagement Advisor
(08) 9420 2081
lina.peche@watercorporation.com.au