Wittenoom Street water pipeline
Project goal:
Improve water supply in East Perth and surrounding areas
Status:
In design
Delivery date:
Late 2022
Get Involved:
Visit the engagement hub to register for updates, see the pipe alignment, read the frequently asked questions and ask questions about the project.
What is happening?
We plan to install a new 340m underground water pipe to improve the supply of water in the City of Perth.
Where is this happening?
Work will take place along Wittenoom Street, East Perth between Bennett Street and Plain Street.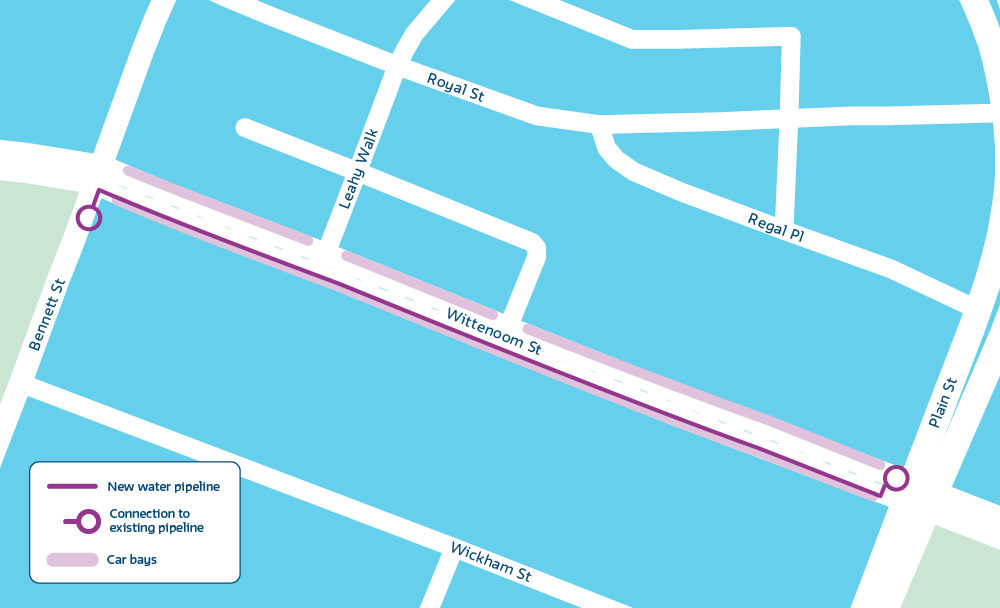 The new water pipe will be installed mainly using open trench excavation within the road reserve.
When in this happening?
Construction work is planned for late 2022 and is expected to take two months to complete.
The majority of the work will be completed between 7am and 5pm on weekdays, and Saturdays as required. If night work is required, residents and visitors to the area will be notified at least 48 hours in advance.

We will notify residents and businesses of a start date closer to construction commencing.
What will the impacts be?
More detailed information including impacts, the construction start date, time frames and our contractor details will be provided closer to construction starting.

Construction impacts
You may notice an increase in noise, dust, vibrations and activity in the area from personnel, machinery and trucks. Noise will be kept to a minimum however, construction will involve road cutting, excavating, and compacting.
Traffic interruptions
The new pipe will be installed within the westbound lane and on-street parking will be restricted during construction. The opposite lane will remain open and car bays will still be available in the east-bound lane.
Detours and traffic management will be in place during this time to safely direct road users and pedestrians around the work area.
Access to your property
Access to your driveway may be temporarily restricted during construction. Our contractors will notify you in advance to allow vehicles to be moved before the closure.
If you have any specific access requirements, please let us know and we will work with you where possible to minimise impact as much as possible.
Water supply interruptions
You may experience a temporary water supply interruption while the new pipe is pressure tested and connected to the network. Our team will notify you at least 48 hours before this occurs.
Restoration of impacted areas
Please be assured that any affected area will be reinstated as closely as possible to its condition prior to the work.
We understand and appreciate that this essential work may cause temporary inconveniences and disruption, and we will do what we can to minimise impacts where we can.
Who can I contact?
Derek Duffy, Water Corporation Project Manager, at Derek.Duffy@watercorporation.com.au or (08) 9420 3276
Esther Cullity, Water Corporation Community Engagement Advisor, at Esther.Cullity@watercorporation.com.au or (08) 9420 3574