Water in Aboriginal culture
Come along on a sensory journey through Noongar boodja (Noongar country) to broaden your students' understanding and respect for Aboriginal culture through Aboriginal peoples' connection to land, water, languages and spirituality.
How it works
Choose from our incursions or use our exciting multimedia activities and plug-and-play teaching tools to provide a platform for students to learn about ancient Aboriginal knowledge and practices.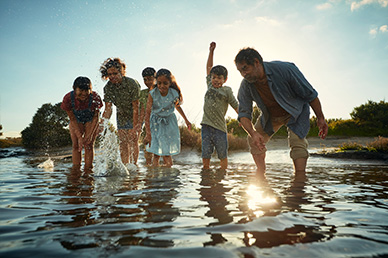 Whichever option you choose, our educational resources align with the West Australian curriculum objectives while satisfying Aboriginal and Torres Strait Islander history and culture cross-curricular priorities.
Water in Aboriginal culture incursion
Our Aboriginal education officer teaches students about the strong connection Aboriginal people have to water and why. The 60,000 year old water management and conservation practices taught in this workshop (available in person or as a livestream) will captivate students to learn about the difference they can make to our water future.
Warning: Aboriginal and Torres Strait Islander people should be aware that some of the content below may contain images, voices or names of deceased persons in photographs, videos and audio recordings.
Number of students: 30-60
Length: 50 - 60 mins
Broaden students understanding of Aboriginal culture
Techniques used by Noongar people to locate and transport water
Knowledge practices shared among Aboriginal people
Book now
Number of students: 30-60
Length: 50 - 60 mins
Broaden students understanding of Aboriginal culture, through connection to country (environment), languages and spirituality
Noongar 6 seasons and how they are linked to plants, animals and water sources
Traditional Aboriginal knowledge of water sources versus contemporary methods
Book now
Walk with the Waugal 360 experience
Through our Waugal 360 website, your students can investigate 3 rich habitats across Perth with 12 points of interest to follow. In each scene, students will be captivated by videos, images, audio and text to develop their understanding of water in Aboriginal culture and the many cultural practices carried out using the flora and fauna of these environments.
Walk with the Waugal 360 website
Walk with the Waugal videos
Access a range of videos and corresponding lesson plans. Ready to be delivered through a range of platforms, students will be guided through an immersive journey by Noongar Elder Dr Noel Nannup to learn about the story of how the Waugal created our deep underground system and waterways. He will take your students to significant sites around Perth and explain their cultural importance to Aboriginal people and how they are sustainably managed today.
Length: Each video ranges from 1:50 mins - 6 mins
The cultural significance of the 6 bodies of water surrounding Perth.
Past and present cultural practices carried out at these locations.
How these sites are used today and how we sustainably manage them for the future.
Walk with the Waugal videos