Our partnerships focus on connecting with the WA community to build a sustainable water future. We proudly support organisations that align with driving the state's growth and vitality, increasing awareness of our environment and water sustainability, and enabling greater community involvement in making WA a great place to live and invest.
We're proud to contribute to the community and build long term relationships that benefit our customers and the environment across WA.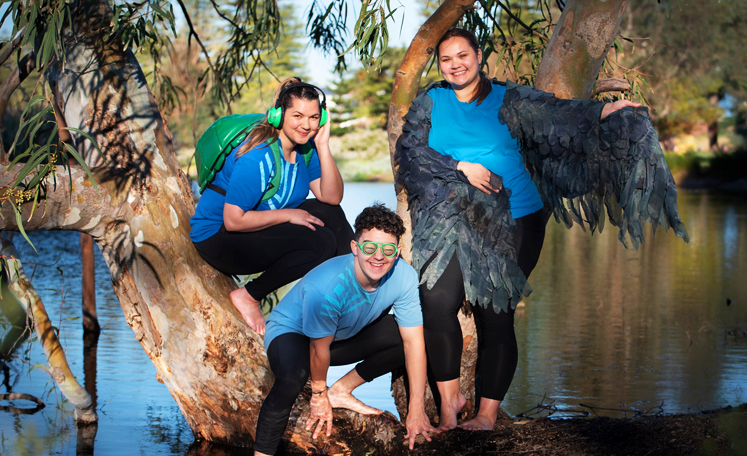 Our key partnership focus areas are split into:
We support initiatives that inspire an appreciation of our environment and an awareness of the value of water.
The programs and projects include education, legacy and long term initiatives that build resilience in our communities to adapt to the impacts of climate change.
WA Museum Boola Bardip
We have partnered with the Foundation for the WA Museum and the WA Museum to enhance the community's appreciation of our natural environment, build understanding on climate change and raise awareness about the importance of being waterwise.

We are working collaboratively with the WA Museum Boola Bardip to create thought-provoking and moving displays which engage and educate everyone of all ages on current environmental issues, climate and the preciousness of water in WA.

Our partnership supports the following initiatives:
Enrich people's lives across WA by connecting them with water through creativity, culture and the community spirit
Enhance the cultural, scientific and education of the WA Museum
Expand the knowledge of our school aged children
Learn more about the current displays and plan your visit.
Loop Upcycling
LOOP Upcycling is a Perth based social venture, which turns "waste into wonder" by transforming unused and redundant corporate workwear into custom made products.
LOOP creates long term, life changing jobs for those most at need in our community. Their workforce includes disability service providers, domestic violence shelters, prison industries and the long term unemployed.
We recently partnered with LOOP Upcycling and commenced a pilot upcycle initiative utilising redundant Water Corporation workwear, which will be used to create useful workplace items.
Partnering with LOOP to securely and sustainably dispose of our unused workwear in a responsible and ethical way, ensures we avoid sending waste to landfill and minimises our environmental impact.
Waterwise partners
We foster partnerships that support and encourage greater ownership and sustainability of WA's water. Our waterwise partners are committed to sharing our water efficiency messaging through community programs, projects and initiatives.
We support cultural initiatives that enrich people's lives across WA by connecting them with water through creativity and community spirit.
Yirra Yaakin Theatre Company
Yirra Yaakin, which means 'stand tall' in Noongar language, is one of Australia's leading Aboriginal performing arts organisations dedicated to bringing First Nations' stories to the world through theatre, in an exciting and engaging way.
Yirra Yaakin Theatre Company aims to ensure Aboriginal theatre provides opportunities for Aboriginal artists at all levels of theatre creation and production.
As part of our long term partnership with Yirra Yaakin, we're sponsoring the Bilya Kaatijin play school tours across metro and regional WA.
Bilya Kaatijin (which means 'fresh water knowledge' in Noongar) is the fourth and final story in Yirra Yaakin's Kaatijin series.
Connecting stories from Noongar land to Wonguktha land, Aotearoa New Zealand to the Kikuyu people of Kenya, Bilya Kaatijin will teach audiences about the importance of water to First Nations people around the world.
The play directly aligns with our initiative to build understanding and appreciation of nature and the conservation of water through sustainable practices.
We support organisations that allow us to enrich people's lives across WA through community engagement and spirit.
Orange Sky
We are proud to be a partner of WA's branch of Orange Sky which provides homeless people with a free laundry service, warm showers and genuine conversation, and helps to connect those in need with available support services.

We are sponsors of Orange Sky's Perth laundry van named "Koorda" (meaning friend in Noongar language), which has been supporting our Perth friends since 2016.

Koorda helps to support the 9,000 plus people across WA who are currently experiencing homelessness. In 2021, the van was also able to help those affected by the Wooroloo bushfires.
Clontarf Foundation
We're proud to partner with Clontarf Foundation in supporting their Educational Engagement and Life Skills program that operates through their academies across WA.
Their mentoring programs operate in a supportive environment at school sites, where Aboriginal students engage in academy activities which focus on leadership, employment and well-being.
We support the Foundation through engaging with Clontarf participants in a range of activities, such as hosting worksite visits and supporting employment forums to develop employment skills of the students.
Partnership seekers
We welcome proposals from groups or organisations seeking support. In your submission, please consider how your initiative or idea aligns with our vision and business objectives.
For more information, please contact Partnerships or call (08) 9420 3792.