Splash of Colour is all about celebrating water and harnessing an understanding of Western Australia's water cycle in the community.
Have you ever come across electrical pump stations, brick wastewater pump stations and other small water structures where you live? They may not look like much, but they are part of a vital network of assets that deliver drinking water and wastewater services to and from our varied sources across our state.
To help us all appreciate how vital these assets are, we have been working with talented local artists to turn them into works of art, bringing them to life through vibrant paintings depicting the local community, native environment and the importance of water.
Read a transcript of this video
Art through collaboration
Our local artists work with schools and the community to get their input and influence their overall artistic design. Students have the opportunity to express their ideas about water, what it means to them and the importance of water conservation.
Water plays an integral role in life and nature. And with a growing population and a drying climate, more and more people are relying on vital water sources, so it has never been more important to look after it and understand more about how it makes its way into your homes.
By understanding the journey water takes to get to us safely, we can all appreciate and value the process water needs to go through every day to drink and use it for all our needs.
Splash of Colour history
The program has been running since 2017 and spans all corners of our state as far north as Broome and as far south as Albany. You will find a splash of art and inspiration where you go.
Around 50 assets have been painted to date, reflecting our unique water story throughout Western Australia. We've partnered with organisations such as the Community Art Network (CAN) and Local Government Authorities, who've helped us engage with local communities to deepen the level of involvement in the community.
Look out for the splashes of colour in your area
They may look a bit like this: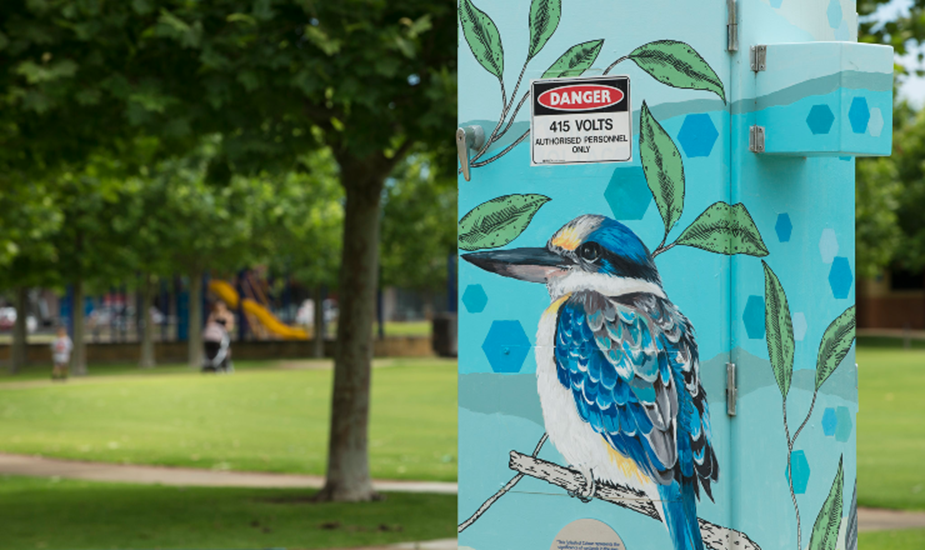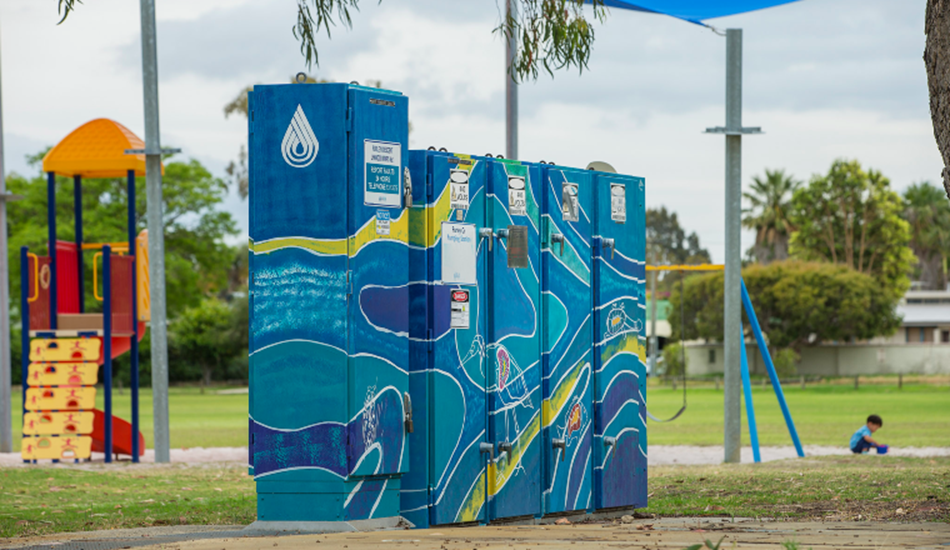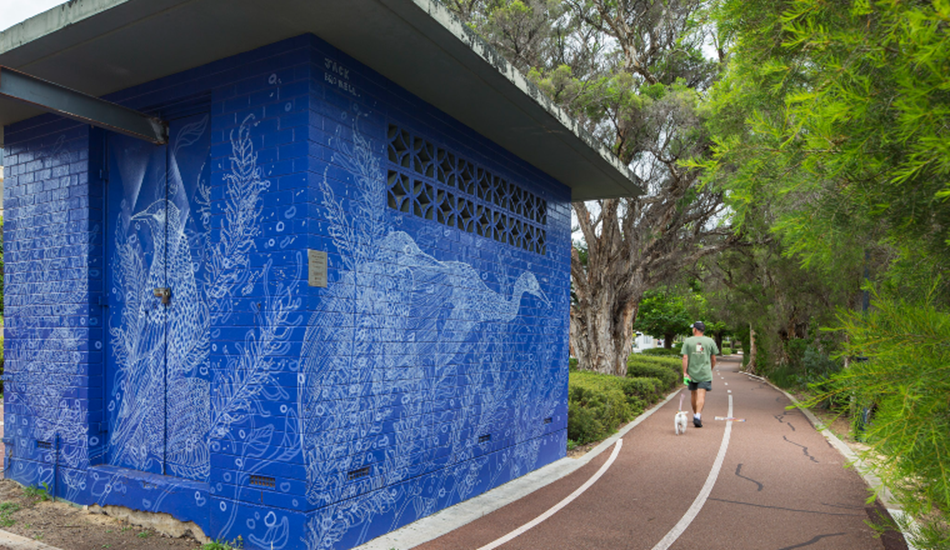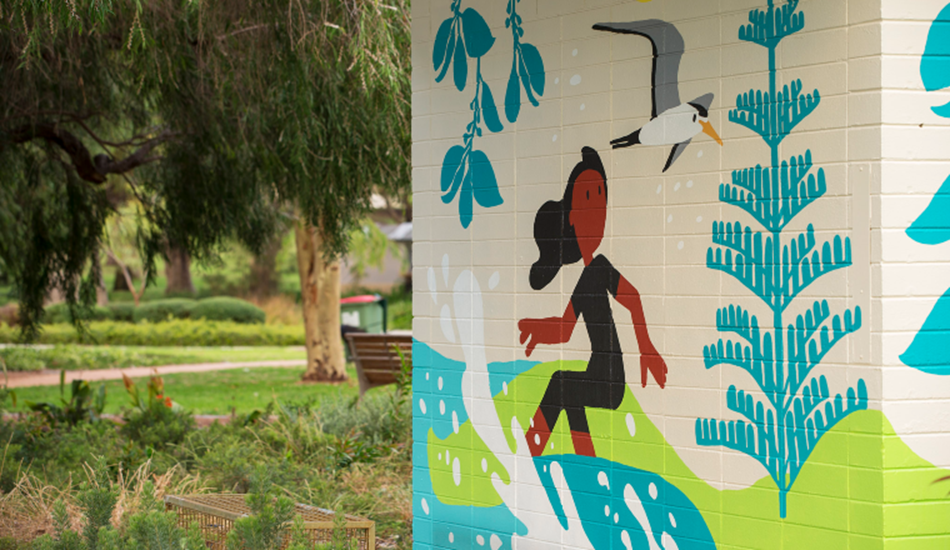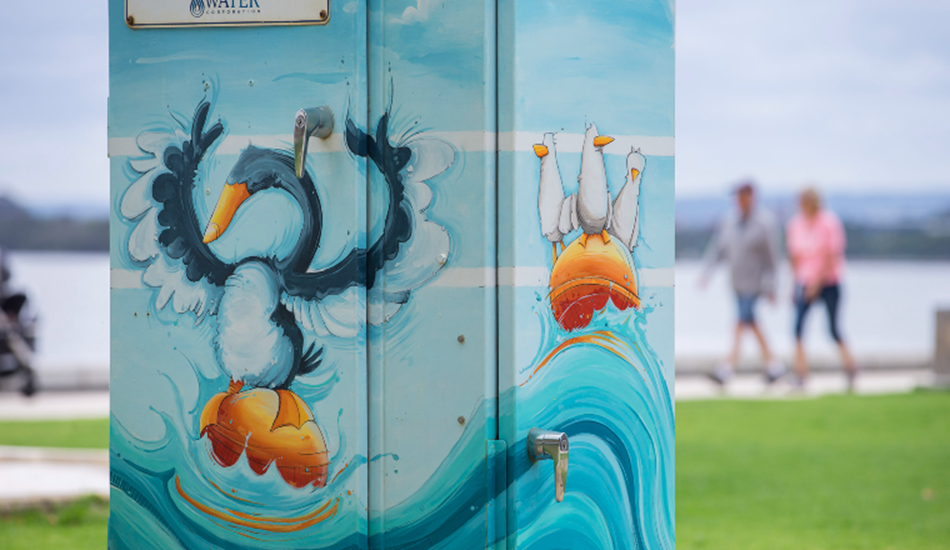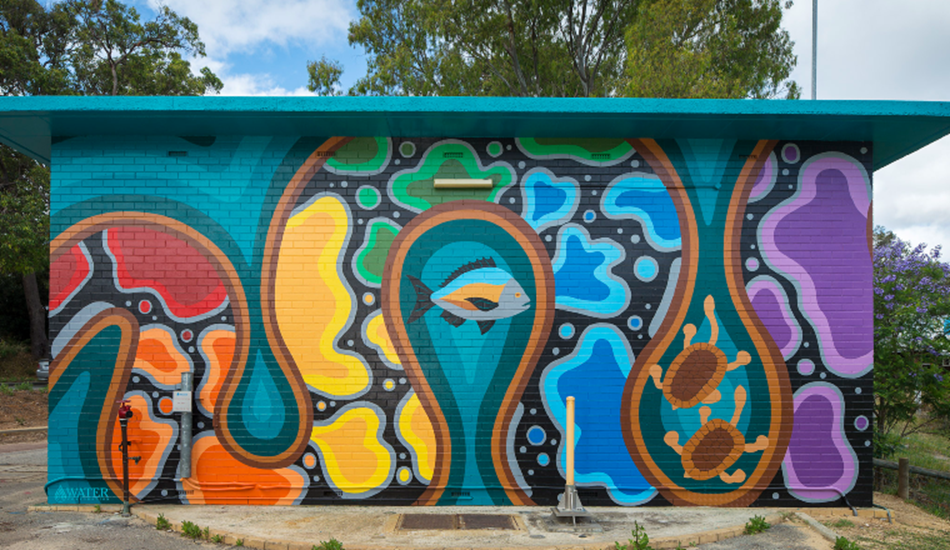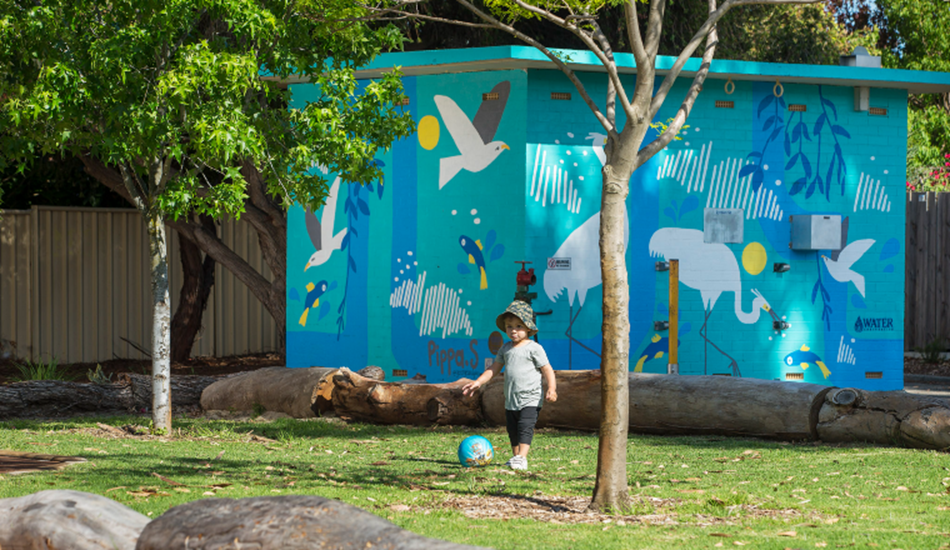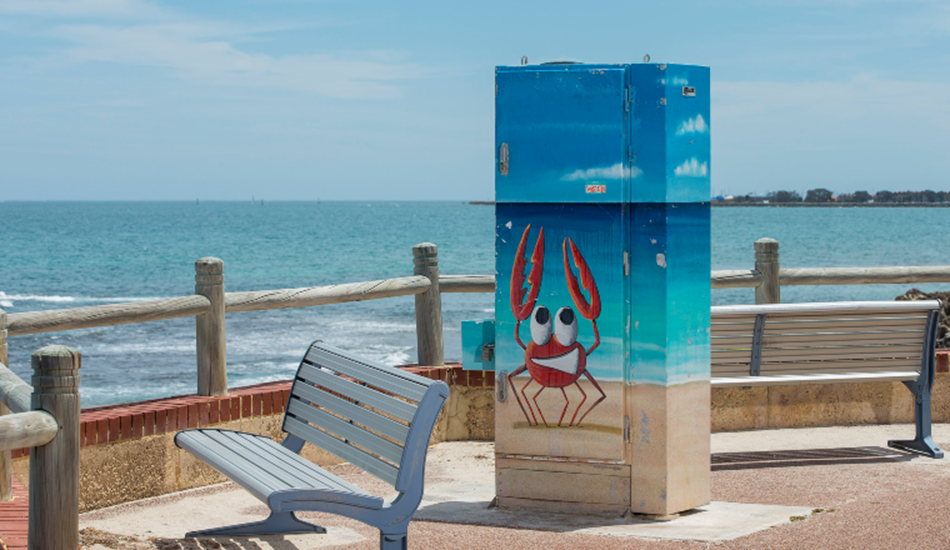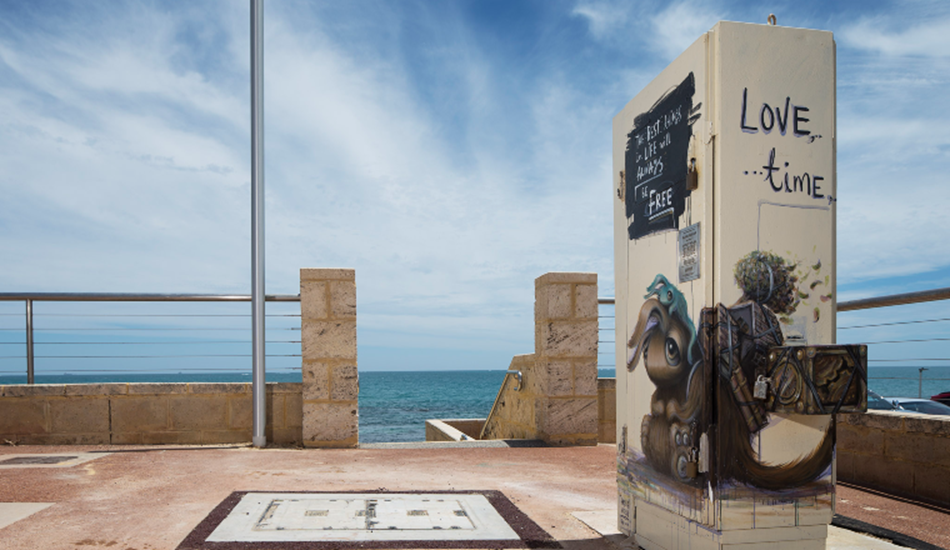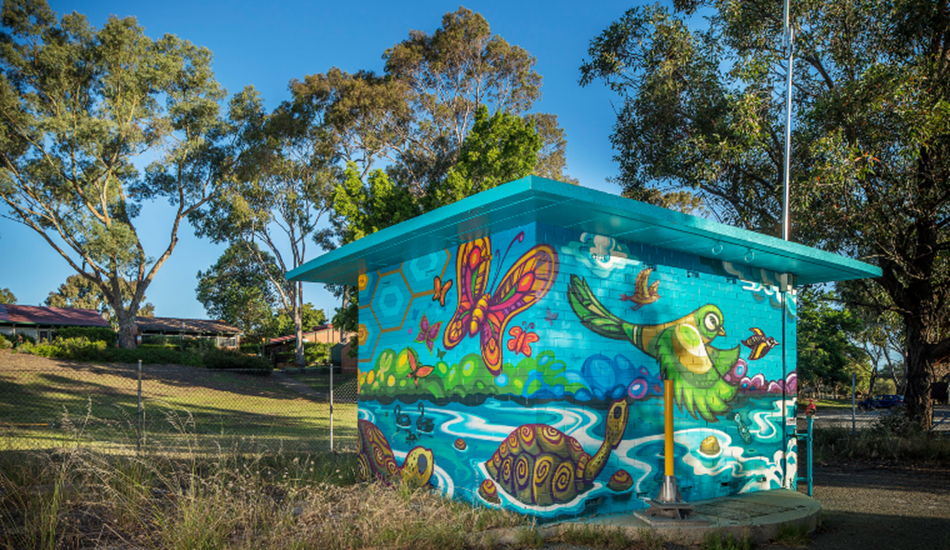 Splash of Colour artist - Jackson Harvey
Location: Fremantle
This Splash of Colour is inspired by the colourful abundance of marine life in Fremantle, featuring the blue swimmer crab. It highlights the importance of water and the ocean as an integral part of the Fremantle's rich history as a port town.
Splash of Colour artist - Vanessa Liebenberg
Location: Beeliar
This Splash of Colour represents the significance of wetlands in the area featuring the Carnaby Cockatoo, an endangered species seen locally in the area, and a sacred Kingfisher, which can be spotted in the local wetlands.
Splash of Colour artist - Justin Martin
Location: Lynwood
This Splash of Colour includes animal species that are familiar with the swampy areas in the Canning River. This mural is influenced by line work, traditional of the Noongar people. The lines within this piece represent the rivers and how they further connect to the swampy areas throughout country.
Splash of Colour artist - Jack Bromell
Location: Mount Pleasant
This Splash of Colour is drawn freehand by indigenous artist Jack Bromell. The four wall mural is a representation of Anthochaera carunculate (Red Wattle Bird) sitting amongst native Banksia.
Splash of Colour artist - Pippa Scheepers
Location: City Beach
This Splash of Colour features iconic Norfolk Island pines, beaches and parklands found in the local area and reinforces the importance of protecting our water sources for the community, wildlife and future generations.
Splash of Colour artist - Peter Ryan
Location: South Perth Foreshore
Located on Mends Street in South Perth, this Splash of Colour incorporates the local habitat of the iconic Mends Street jetty and the nearby children's play park.
Splash of Colour artists - Rod Garlett and Nathan Corunna
Location: Guildford
(Assistants: Lawry Holden, Moorditj Maaman Men's Group in partnership with Community Arts Network).
This Splash of Colour celebrates the Noongar people's deep cultural connection to the water and land, reinforcing how precious and sacred water is. The mural features mooditj maaman (strong men) and the Waugal (rainbow serpent), whose body created the Derbarl Yerrigan and Djarlgarro Beeliar (Swan and Canning rivers).

Splash of Colour artist - Darren Hutchens
Location: Trigg
This Splash of Colour depicts the classic suburban icon, the front lawn, in a fun and engaging way. It hints at the importance of water in maintaining our quality of life, and how this impacts on our surroundings and the local environment. The spray painted work is a mix of free hand, masked and stencilled application
Splash of Colour artist - Pippa Scheepers, George and Gina
Location: Mt Hawthorn
This Splash of Colour was inspired by nearby Lake Monger, observing the Great Easter Egret. These birds can often be spotted wading in the shallows waiting for prey.
Splash of Colour artist - Samantha Prentice
Location: City of Stirling
Childlike sea creatures were used to bring joy and happiness to this Splash of Colour location. These creatures reflect the ocean through vision and the inner joy of the playful crabs.
Splash of Colour artist - Hayley Welsh
Location: Marmion
This coastal Splash of Colour hopes to inspire those that see it to remember that the best things in life will always be free... love, time and the sea.
Splash of Colour artist - Lawry Holden
Location: Bassendean
This Splash of Colour design is set on the banks of the Swan River and highlights the water cycle, the local flora, fauna and importance of conserving water for future generations.
Community benefits
Splash of Colour murals improve the look and feel of the surrounding area.
The Splash of Colour murals are inspiring, water-themed and beautify the surrounding environment.
The murals are painted on water and wastewater assets throughout the community, highlighting and raising awareness of the vital role these play in providing water and wastewater services to residents across WA.
Splash of Colour supports talented local artists, showcasing their unique style and skills in their community.
Splash of Colour workshops educate children about water sources, the water cycle, improving water literacy and inspiring water conservation.
The program also deters graffiti on painted assets.
How to get involved
If you are an artist interested in Splash of Colour, reach out! If we have a project coming up in your local area we can add you to the list for consideration.

If you are primary school looking to be involved in the Splash of Colour program, let us know! If we have any projects coming up in your area we can add you to the list for consideration for the Splash of Colour workshop. We can also put you in touch with our Waterwise Education team if you are interested in an educational visit to your school.