11 May 2023

|

Update
Recognition for waterwise winners
Organisations across WA are playing their part in saving valuable drinking water. With the Department of Water and Environmental Regulation, we're proud to celebrate the success of organisations involved in our five non-residential Waterwise programs.
Waterwise Business Program Winners
Waterwise Commercial Platinum Business of the Year was awarded to Hollywood Private Hospital and Cockburn Cement Limited won the Industrial Platinum Business of the Year award.
Water savings across Hollywood
Hollywood Private Hospital has committed to efficient water management for 10 years. Despite an expansion of wards and operating theatres, the hospital has reduced its water use by 13%. The water saving was achieved by upgrading water distribution infrastructure and optimising the flushing regime.
Innovative cooling tower operation has supported water savings. Native plants in a waterwise garden have reduced the volume of water needed for irrigation.
Tip: Planting a native garden at home can cut your water bill. Check out our A-Z guide to WA native plants.
Wetlands treat & recycle Cockburn Cement's water
Cockburn Cement has a strong culture of water efficiency. It has reduced annual water use by 27.5 million litres (the equivalent of 11 Olympic swimming pools) since 2012. An artificial wetland recycles most process water and captured stormwater. Regular monitoring and submeters helps make every drop count.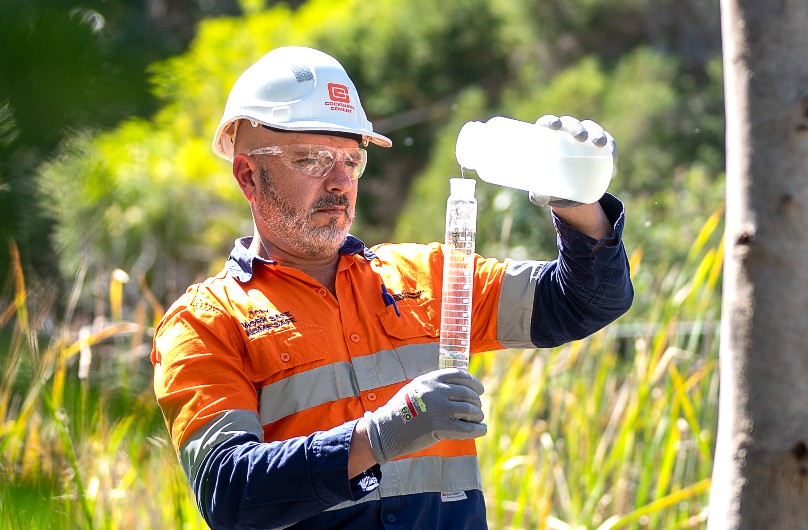 Cockburn Cement employee undertaking monitoring in the artificial wetland
Waterwise Council Program Winners
This year two councils – City of Stirling and Town of Cambridge - were joint winners of the Platinum Waterwise Council program.
Revitalising Perry Lakes – Town of Cambridge
The Perry Lakes Stormwater Diversion Project from Herdsman Drain has revitalised the lake. Water levels are close to historic highs and swans are breeding there for the first time in years. During the planning stage, an Aboriginal elder advised the types of plants to use and told stories about the camping site. The superficial aquifer will replenish groundwater sources, improve water quality, and reduce salinity.
'The Friends of Perry Lakes' is a new community group assisting with rehabilitation, vegetation and improved ecology.
The Irrigation networks for Perry Lakes and Alderbury Reserve sports facilities were also upgraded.
Tip: If you're thinking of a native garden makeover, use our waterwise plants directory. The tool can help you choose the best plants for where you live, and the type of garden you'd like to have.
Pop-up garden proves popular – City of Stirling
The City hosted a Waterwise Pop-Up Demonstration Garden. Over 1000 people visited the demonstration garden and 200 people attended sustainability-themed workshops. Positive community support has led to the event becoming a permanent fixture on the City's calendar.
Complimenting the existing Waterwise Verge Rebate program, the City launched its Sustainable Verge Awards. Residents are recognised for their waterwise, biodiverse nature strips.
Tip: Find out how you can save water by creating a waterwise verge.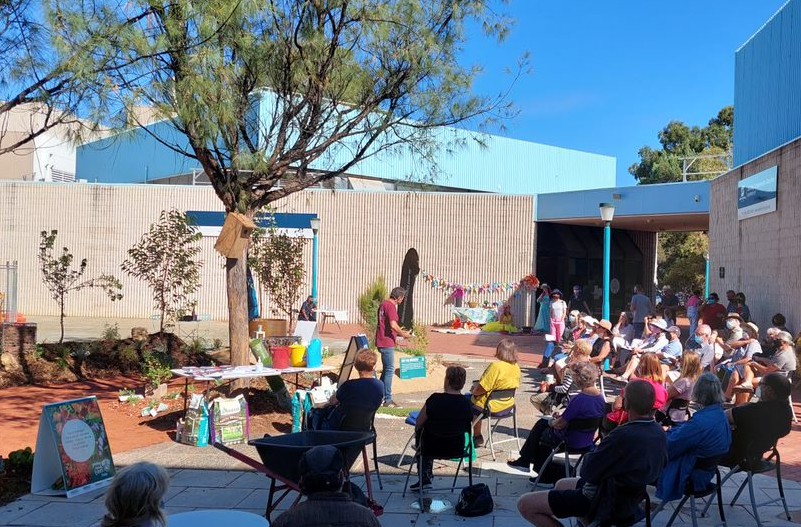 Sustainability workshop attendees in Karrinyup
Waterwise Aquatic Centre Program
This year, the Albany Leisure & Aquatic Centre and Kwinana Recquatic were jointly awarded the Platinum waterwise aquatic centre award.
Albany Rainfall Captured at Aquatic Centre
Albany Leisure & Aquatic Centre installed water tanks to irrigate its hockey field and landscaped areas. The harvested rainwater is helping decrease the facility's reliance on Albany's town water supply. The two 250 kilolitre tanks were purchased with the assistance of a grant from the Department of Water and Environmental Regulation.
New timed, water-saving drink fountains have been installed in the town centre. The fountains have saved tens of thousands of plastic bottles. These initiatives are helping to create a more sustainable community in Albany.
Tip: Installing a rainwater tank at home can save valuable drinking water being used on your garden.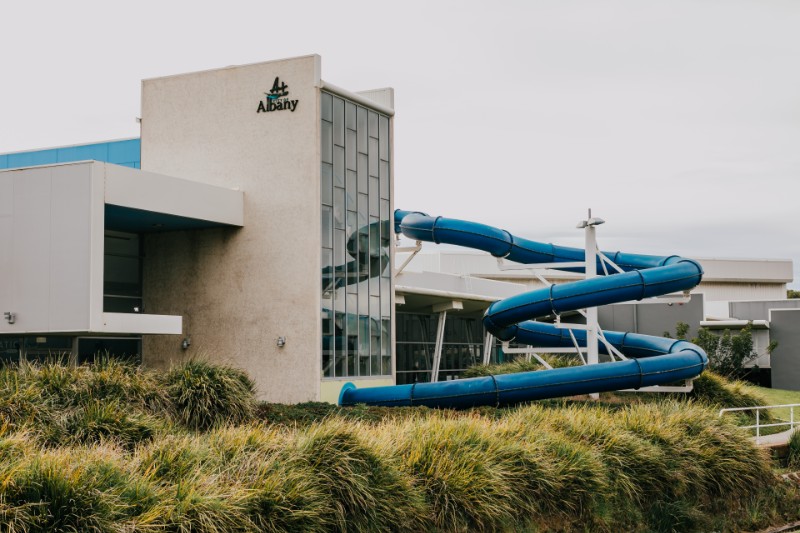 Albany Leisure Centre
Water saving focus at Kwinana Recquatic
Recognised for its gold status in 2021, Kwinana Recquatic is passionate about educating staff and customers in water-saving measures. Signage in bathrooms encourages customers to report leaks and conserve water. Staff receive weekly water usage statistics to help with monitoring, and in particular identifying and preventing leaks.
Tip: It's easy to spot a water leak at home with our 15 minute leak detection test.
Waterwise Buildings Program
The Exchange Tower on The Esplanade, Perth was this year's platinum winner.
Exchanging fittings at Exchange Tower
A major refurbishment of common area bathrooms and amenities on two levels has allowed for high efficiency unit upgrades. Eight levels of common area bathrooms are due to be refurbished next financial year, further increasing the building's water efficiency.
Tip: You don't need to wait to renovate your bathroom. Replacing existing showerheads with WELS 4 star rated models or better can reduce the flow rate by over 50%. The new models now provide a great 'shower feel', even with lower flow rates.


Waterwise Development Program
Brabham Estate by Peel Limited in collaboration with DevelopmentWA was awarded platinum status in this year's awards.
Greening Brabham Estate – City of Swan
Located across from the new Whiteman Park Station, the Brabham estate was awarded the 6-Star 'Green Star' accreditation through the Green Building Council of Australia. The award recognises waterwise and sustainable initiatives in the estate. Every property has a waterwise front garden included in the package. Brabham has commenced a 'Living Green' community education series for residents to learn sustainable and waterwise initiatives.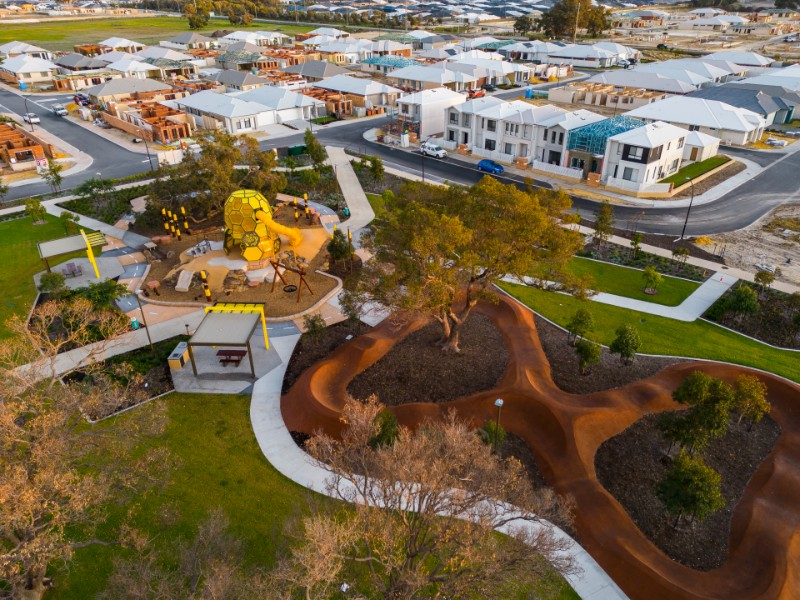 Brabham Estate
Tip: For information on installing a waterwise front garden, check out our garden designs for Perth and South West.
For more information about how to be waterwise inside and outside your home, see our waterwise advice.