12 Apr 2022

|

Media Release
Healthy snack options ripe for the picking at new Yakanarra community garden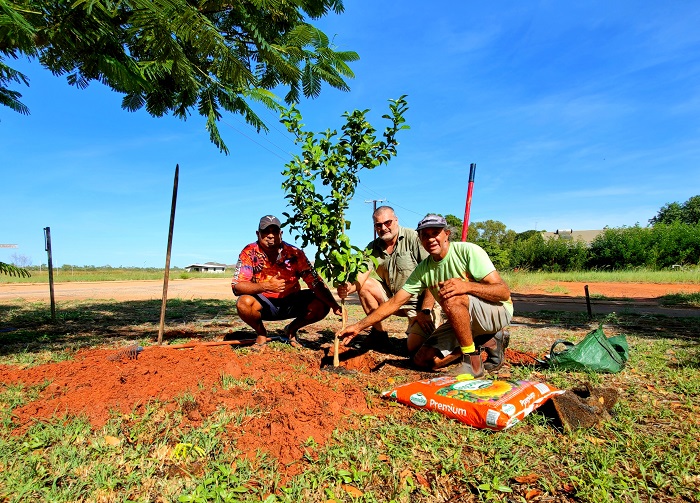 Healthy breakfast and snack options will soon be on the menu at a remote Kimberley community thanks to a new citrus garden planted using a grant from Water Corporation and the Lions Club of Broome.
The Yakanarra community received $5,000 through the 2021 Kimberley Community Grants Scheme for its sustainable citrus garden, which is expected to reap a healthy harvest of oranges, mandarins and lemons from next year.
Yakanarra is a remote Aboriginal community of around 80 people, 60km south-west of Fitzroy Crossing.
Over recent months, community members have pitched in to help plant the fruit trees, which will provide nutritious breakfasts and heathier snacks for school children and the wider, close-knit community.
Water Corporation North West Regional Manager Sharon Broad said it was a privilege to support a project that fostered community connection and encouraged sustainable water use.
"One of the aims of our grants scheme is to foster community involvement and wellbeing, and the Yakanarra community garden project is a fantastic example of exactly that," Mrs Broad said.
"It's great to see the community share their cultural knowledge while using the garden as a platform to educate younger generations on importance of being waterwise."
Yakanarra Aboriginal Corporation Chief Executive Officer Johnny Bekin said he was proud of the outcomes achieved through the project.
"Planting the garden has helped bring our community closer together and built stronger relationships between Elders and children through the sharing of traditional knowledge on plants, fruits and vegetables," Mr Bekin said.
"Our new garden features a waterwise design and recycles biodegradable waste from the school and from local homes, allowing us to teach the community about sustainable water practices.
"What's really special is that this garden will benefit the community long into the future and it's because of the Kimberley Community Grants Scheme that we've been able to fund and deliver it."
The 2022 Kimberley Community Grants Scheme opened on 28 March and applications close on 20 May.
Local schools, community organisations and not-for-profit groups can apply for individual grants of up to $10,000 for projects that build an appreciation of nature, foster community wellbeing or make a positive difference to the lives of Kimberley residents
For more information, visit www.watercorporation.com.au/kcgrants
Media contact:
Water Corporation media team (24/7)
P: (08) 9420 2555