18 Oct 2023

|

Media Release
1000th government-owned home goes waterwise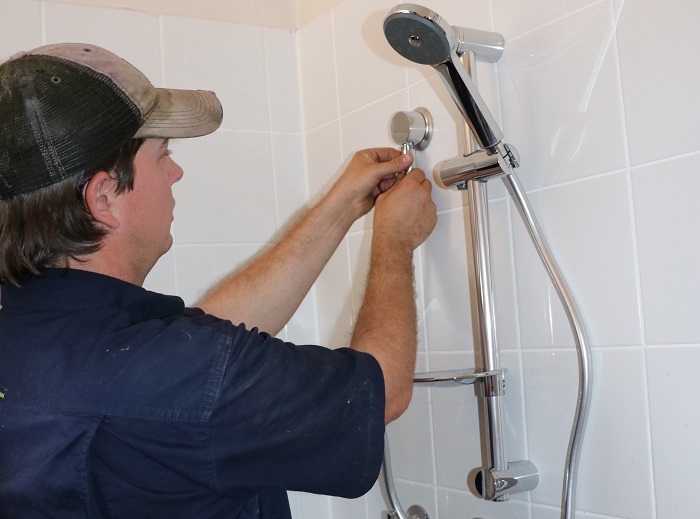 Since 2019, 1,076 toilets, 612 showerheads and 274 taps have been installed in government-owned homes to help tenants save water and reduce their water-use bills.
Major milestone for the Waterwise Public Housing Project
1,000 properties retrofitted with waterwise fixtures
Tenants saving 20 per cent of water usage, reducing their bills
One thousand Western Australian public housing properties have now been made more water efficient through a successful Government partnership helping to save drinking water and reduce tenants' bills.
The milestone was reached earlier this week, with a home in Northam becoming the 1,000th retrofitted with new waterwise toilets, taps and showers.
It is one of 10,000 households State-wide that will receive a waterwise upgrade under the WA Government's Waterwise Housing Project - a partnership between Water Corporation and the Department of Communities.
The project aims to ensure public housing tenants receive lower water bills, gain improved water use literacy, and that water is being used more sustainably.
Since 2019, the project has replaced 1,076 toilets, 612 showerheads and 274 taps, saving each household an average of $250 a year by cutting average water usage by 132,000 litres, or 20 per cent.
This equates to a massive saving of 407 million litres of water in four years, enough to fill 181 Olympic swimming pools.
As well as replacing fixtures, each household is checked for water leaks inside and outside the home. A single leaking tap can waste up to 10,000 litres of water per year, while a constant trickle in a toilet bowl can waste 9,000 litres per year.
The initiative is part of the WA Government's Kep Katitjin-Gabi Kaadadjan (Waterwise Perth action plan 2) to establish leading waterwise communities for Boorloo (Perth) and Bindjareb (Peel) by 2030.
To learn how to make your home waterwise, visit the waterwise page on Water Corporation's website at www.watercorporation.com.au/Waterwise.
Comments attributed to Water Minister Simone McGurk:
"This is a major milestone for the Waterwise Public Housing Project, with 1,000 households across WA receiving help to reduce their water bills and water use.
"Public housing tenants are among the most vulnerable in society, often facing hardship or social disadvantage.
"The Cook Government is committed to ensuring these tenants do not pay higher water bills because of old, leaking or inefficient water fixtures.
"This financial year, the project will retrofit waterwise fixtures in properties in Manjimup, Northam, Albany and Denmark, as well as in homes across Perth and Peel.
"Climate change means we need to act now to save water for the future. It is vital all Western Australians understand how small changes in household water use can make a big difference to the future security of our most valuable resource."
Comments attributed to Housing Minister John Carey:
"This project is a fantastic example of what can be achieved when Government agencies collaborate to deliver better outcomes for some of our State's vulnerable tenants.
"The Waterwise Public Housing Project not only gives tenants the hardware to save water, it equips them with the knowledge and skills to make small, yet meaningful changes to water-use behaviours."

This lucky couple's home in Northam became the 1,000th government-owned home to be retrofitted with new waterwise taps, showers and toilets.