Creating a waterwise verge
In this article
Designing a waterwise verge garden
What you need to consider before you start
Choosing the right plants for your waterwise verge garden
Transforming your verge into a waterwise garden creates an attractive, low maintenance garden that will:
Save water in the garden
Create a beautiful green space for your street
Create a cooling effect and counteract 'heat island' effects in summer
Provide ecological benefits, such as providing habitat for local wildlife and promoting biodiversity.
Approvals - before you start
Before planning your verge, check with your local council for any guidelines or restrictions. All Gold Waterwise Councils have a waterwise verge policy or guideline that you can follow when creating your waterwise verge.
If you live in a strata property, you'll need to get joint approval from strata owners and managers before starting.
It's also essential to confirm any underground services (such as such as water, electrical, gas and telecommunication pipes) prior to starting, to ensure no assets are damaged. Visit the Before You Dig Australia website for more information.
Designing your verge garden
Find inspiration by looking through garden websites or magazines, or contact your local council to see if they have a waterwise demonstration garden you can visit. We have waterwise verge designs to help you get started. You can also find waterwise specialists to help you design your verge.
Watch this video for tips on how to makeover your verge.
Read a transcript of this video
Selecting your plants
Local waterwise plant species are the most appropriate for verge gardens as they can survive our hot dry summers with little to no additional watering. Find out more about plant selection at our Waterwise plants directory or head to your local Waterwise Garden Centre or Nursery.
Make sure you steer clear from plants that are prickly, poisonous or that may cause allergic reactions.
If you're planning on planting a tree, be sure to contact your local council first as they'll be able to advise on planting guidelines and approval processes. You'll generally be directed to choose waterwise trees that have non-invasive roots to minimise damage to underground pipes. To help you, we've compiled a list of waterwise trees suitable for verge planting.
Most local governments also have street tree programs that provide new verge trees free of charge. Get in touch with your local council to find out more.
If you're planting lawn, consider a warm season grass that is drought tolerant. Here are a few simple designs to help you create an attractive, waterwise and low maintenance verge.
Preparing your verge and planting
Removal of unwanted lawn is crucial to the success of a waterwise verge garden to prevent competition with new plants.
Some perennial grasses such as buffalo and kikuyu can be removed manually, but couch grass typically needs to be handled with herbicide spraying. When using herbicides, always apply as directed on the pack, including follow up treatments as required, or consider hiring a licensed contractor.
If you're including local native species, it's good idea to apply a quality soil wetting agent during establishment to increase the soil's 'wettability', allowing water to penetrate deep into the root zone. The best time to plant is late autumn/early winter, as rainfall through the cooler winter months will help to establish your new garden.
Once you've finished planting, apply a 5-10cm thick even layer of coarse mulch, making sure mulch is kept clear from the base of all new plants and trees. Get more tips on improving your soil.
Irrigation and watering
If your waterwise verge needs a little irrigation help, contact your local waterwise specialist for advice on which system will best suit your plants' needs.

While establishing your verge garden, you may be able to apply for a watering exemption.
Maintaining your waterwise verge
Native waterwise verge gardens should only require occasional weeding and pruning. Check mulch every few months and top up as necessary to maintain a 5-10cm even layer across all planting areas. All maintenance to trees on the street, including pruning, must be carried out by your local council. Contact your local council if you think your verge tree needs attention.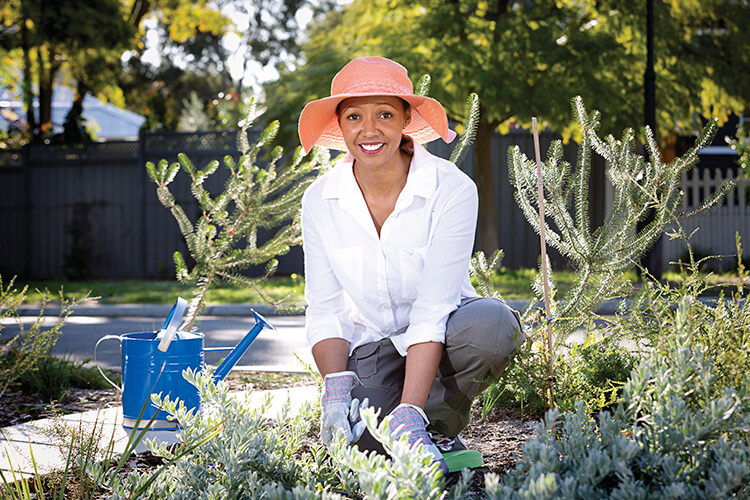 Waterwise verge guide
Simple step-by-step instructions for creating your own waterwise verge.
Download verge guide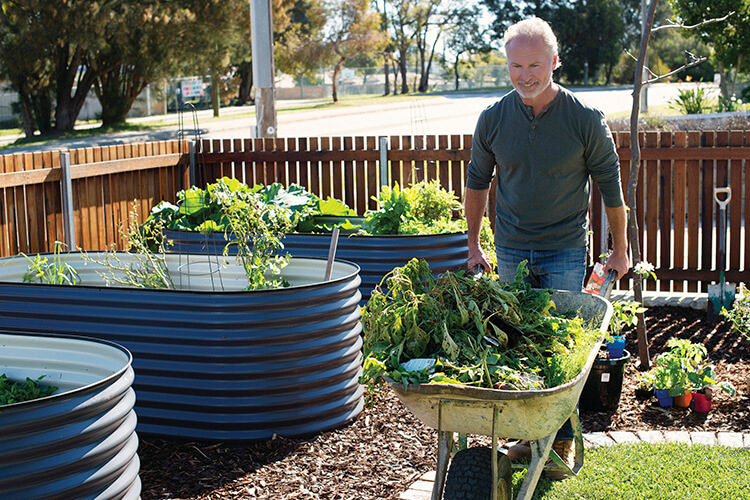 Need expert advice?
Find a waterwise specialist near you to help with all your gardening and irrigation needs.
Search for a specialist