Creating a waterwise verge
Transforming your verge into a waterwise garden will create an attractive, low maintenance garden.
Saying goodbye to your verge's lawn and replacing it with a waterwise garden can help you to:
save water in the garden
create a beautiful greenspace for your street
create a cooling effect and counteract 'heat island' effects in summer
provide ecological benefits, such as providing habitat for local wildlife and promoting biodiversity.
Watch this video for tips on how to makeover your verge.
Read a transcript of this video
Council guidelines
Before planning your verge, check with your local council for any guidelines or restrictions. It's also essential to confirm any existing underground services, so that no assets are damaged or interfered with. You can do this by visiting the Dial Before You Dig website.
Preparing your verge
To transform your lawned verge firstly apply a herbicide with glyphosate as the active ingredient. After a few months, the lawn will breakdown and act as a source of nutrients for new plants. There is no need to remove the lawn, just plot out the design and dig holes for the new plants and watch your new waterwise verge come to life.
Designing your verge garden
Here are a few simple designs to help you create an attractive, waterwise and low maintenance verge.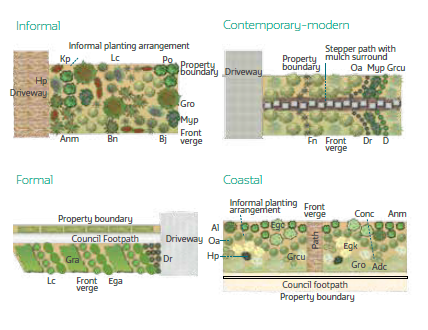 Choosing your plants
Use our waterwise plants tool to find plants that grow best in your local area's soil type. Your local Waterwise Garden Centre can also help with a range of waterwise plants and products available, as well as expert advice.
Plants and flowers under 70cm high are best, so that they are not blocking the line of sight of pedestrians, bike riders or car drivers. If you live on a corner block or near an intersection there may be other height restrictions in place – check with your local council before you start planting.
List of recommended plants for a verge garden
Abrv.
Common name
Botanical name
Groundcovers
Hp
Snake Bush
Hemiandra pungens
Gro
Grevillea 'Gin Gin Gem'
Grevillea obtusifolia
Grcu
Grevillea 'Flat Jack'
Grevillea curviloba
Adc
Adenanthos 'Coral Carpet'
Adenanthos cuneatus
Egc
Eremophila 'Compactum'
Eremphila glabra
Kp
Running Postman
Kennedia postrata
Myp
Creeping Boobialla
Myoporum parvifolium
Ega
Eremophila 'Amber Carpet'
Eremophila glabra
Low Shrubs
Bn
Honeypot Dryandra
Banksia nivea
Al
Acacia lasiocarpa
Acacia lasiocarpa
Oa
Olearia 'Little Smokie'
Olearia axillaris
Wd
Westringia 'Jervis Gem'
Westringia dampieri
Grasses/Strappy Leaf Plants
Conc
Grey Cottonheads
Conostylis candicans
Myp
Creeping Boobialla
Myoporum parvifolium
Anm
Kangaroo Paw
Angiozanthus manglesii
Po
Native Iris or Purple Flag
Pattersonia occidentalis
D
Dianella 'Silver Streak'
Dianella
Dr
Dianella 'Little Rev'
Dianella revoluta
Fn
Knotted Club Rush
Ficinia nodosa
Lc
Little Con
Lomandra confertifolia
Bj
Bare Twig-rush
Baumea juncea
Irrigation
Ideally your waterwise verge won't need a permanent irrigation system to be installed.
If you do require irrigation, we recommend sub-surface drip irrigation. This will be most efficient given the exposed conditions typical of verges. If you need help with irrigation, your local Waterwise Irrigator or Irrigation Design Store can help.
Incentive schemes
Contact your local council to find out if they have an incentive scheme for waterwise verges or offer free or subsidised native plants to local residents. Some councils also have verge guidelines and demonstration verges available for you to visit.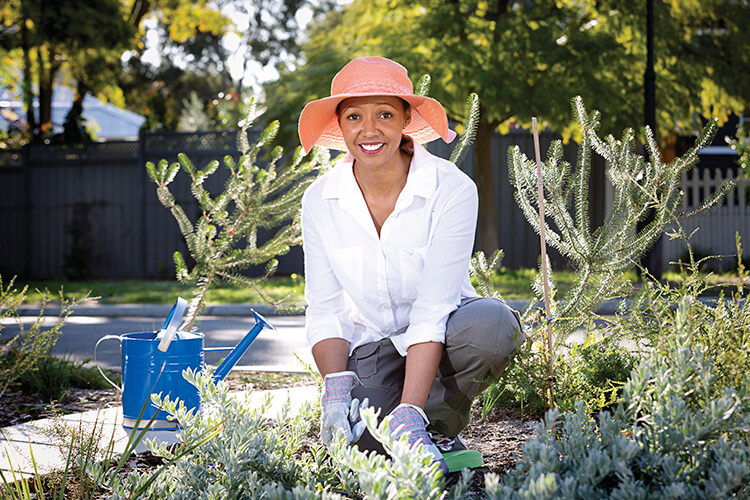 Waterwise verge guide
Simple step-by-step instructions for creating your own waterwise verge.
Download verge guide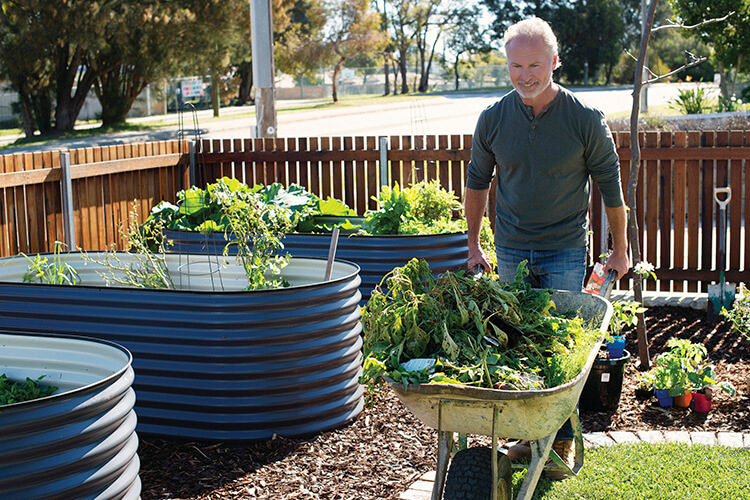 Need expert advice?
Find a waterwise specialist near you to help with all your gardening and irrigation needs.
Search for a specialist