We value our employees for their unique insights, ideas and talents. We're passionate about creating an environment that's inclusive and reflects the diversity of the community we serve. A place where everyone belongs.

We want our employees to bring their 'true self' to work. To feel valued and respected with equal access to opportunities and resources. Irrespective of race, ethnicity, disability, age, gender identity or sexual orientation.

The experiences and perspectives that people from different backgrounds bring, strengthens our workforce. It fosters greater innovation, better customer connection and helps our people to thrive.
Achieving a gender balance
We're focused on attracting and retaining more women across the organisation. This includes providing development opportunities in senior leadership roles and trades.

We support, celebrate and aim to raise the profile of women in the workplace. And we're proud to be recognised for this as an endorsed Work180 employer and partner with FlexCareers.
Attracting Aboriginal and Torres Strait Islander people
Aboriginal people have been the custodians of the natural environment for over 60,000 years. We have much to learn from them about our land, waterways and communities in order to protect our most precious resource.

Through our Reconciliation Action Plan, we're committed to creating meaningful employment and training pathways for Aboriginal and Torres Strait Islander people across all roles and levels. For us, it's important that our people are representative of our communities in which we live and work. Whether you're looking to kick start your career, take on a leadership role, stay on country or move around the state – we're here to support you.
Learn about the opportunities.
Disability inclusion
We provide an accessible and inclusive workplace for people with disability. We're proud to offer tailored support and reasonable adjustments. This allows candidates and employees to request workplace adjustments during our recruitment process and at any stage of their employment with us.
Our Disability Access and Inclusion Plan provides the framework for us to identify access and inclusion barriers and implement strategies to overcome them.
Visiting one of our offices? See the site access information and who to contact for alternative access arrangements.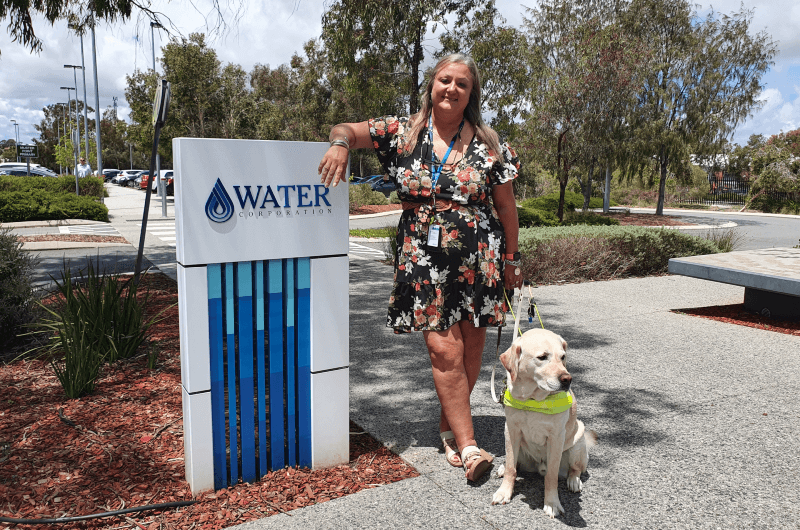 Meet Annalise and her guide dog Alfie from our contact centre. Annalise lost her sight to neuromyelitis optica in 2017. A high-contrast keyboard, large computer screen, and strong magnifier glasses allow her to read text clearly.
Reasonable adjustment
We aim to remove barriers for people with disability by offering reasonable adjustment. This may be administrative, environmental or procedural changes that enable a person with disability to perform their duties safely.
Some examples of this include:
Providing adjustment to the recruitment process to reduce barriers in the selection process
Offering additional training, mentoring, supervision and essential information in suitable formats
Modifications to the workplace or the supply of specialised equipment, furniture or work aids where possible.
Flexible work arrangements
Alterations to premises or work areas
To discuss these options, please email recruitment@watercorporation.com.au or call 08 9420 2000.
LGBTQIA+
We're committed to ensuring that LGBTQIA+ folks are included, respected and celebrated within our workplace. We are proud to have partnered with Pride in Professionals and Pride in Diversity to help ensure LGBTQIA+ folks have the best opportunity to thrive at Water Corporation. We also offer LGBTQIA+ and pronoun awareness training to employees and leaders and take part in the annual Perth Pride Parade.
CaLD
People from culturally and linguistically diverse backgrounds are celebrated and valued at Water Corporation. To ensure we create regular opportunities for CaLD staff to connect, share experiences and inform us of how to shape an inclusive workplace, we established a CaLD Employee Working Group and Social Network in 2023.

Our commitment to providing a safe workplace for culturally and racially marginalised people has seen us create opportunities for Water Corporation staff to increase their awareness of inclusive language and challenge implicit bias through in person and online training and through sharing of lived experiences. We understand the importance of allyship and that we all play a part in creating respectful and inclusive workplaces.
Youth
We have a range of initiatives that support young people and help them kickstart their careers. Whether they're a trainee, apprentice or graduate, there are various roles across the organisation tailored to young people.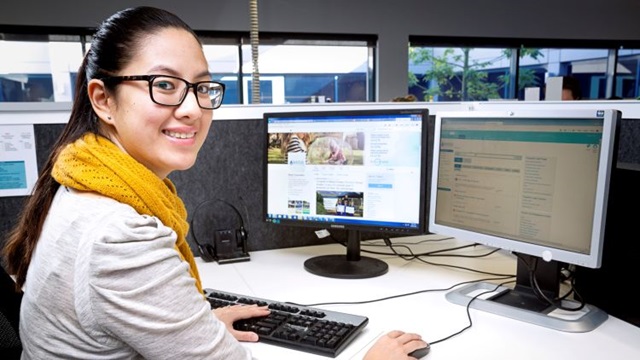 Ready to join us?
No matter what you're looking for we have a range of roles available to suit your skills and experience.
Search & apply now