Weather smart irrigation rebate
Please note: this offer has now closed. It was available in the Perth metro area.
A weather smart irrigation controller uses local weather data to adjust the watering times for your garden, ensuring it gets the water it needs without overwatering.
You may be able to convert a standard irrigation controller to a weather smart one by connecting a weather smart component to your existing controller.
By only watering as much as your garden needs, you can reduce watering by around 15% while keeping plants healthy.
The rebate
Rebate of up to $200 including:

Up to $100 for the purchase of either:

one eligible weather smart irrigation controller from a supplier of your choice; or
one weather smart component for an existing controller from a supplier of your choice

AND

The rebate may or may not cover the full cost of the eligible products or services. Customers are advised to get quotes from suppliers and service providers before purchasing.
Rebate is only available for purchases made on or before 31 May 2020.
The offer is limited to 600 rebates
What you need to know
To be eligible for the rebate, a Waterwise Garden Irrigator must program your new weather smart controller or your existing controller with its new weather smart component added.
To apply for the rebate you will need to provide:

proof of purchase for the product and the service (which may or may not be from different suppliers)
a copy of the water bill for the property where the controller/component is installed
a copy of the completed programming checklist (this will be provided to you by your Waterwise Garden Irrigator).

The rebate is available for Water Corporation customers only who have not previously claimed an irrigation controller rebate
You must be a residential property owner in the Perth metropolitan area to apply
The services of an electrician may be required depending on your circumstances. The rebate does not cover installation of the irrigation product by an electrician
Please refer to the full terms & conditions below.
How do weather smart irrigation products work?
They use local weather data to adjust watering times, based on temperature and rainfall, to ensure your garden gets the moisture it needs, without over-watering. Some of the controllers are Wi-Fi enabled, allowing them to obtain weather data via the internet others use onsite weather stations. Many controllers also allow remote access, which means you can control your irrigation system via your mobile or computer.
We recently ran a trial where 60 customer's irrigation controllers were upgraded to weather based models. It was found that even with less water gardens remained healthy. The average household reduced their garden watering by 15% (around 95,000 litres) in the first year.
The graph below highlights the water savings that can be made. The dark blue bars show the amount of water used each month with a weather based controller. It's clear that watering according to the weather will save a lot of water.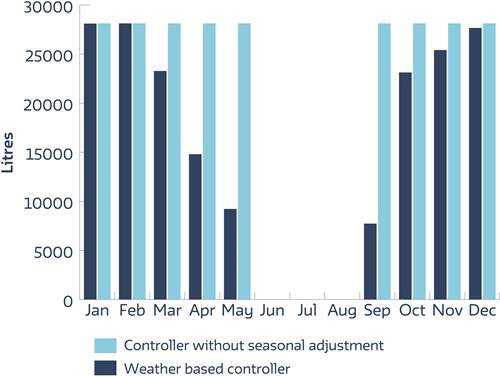 Below you can see how much water can be saved each month by adjusting watering times based on the weather and with irrigation turned off from 1 July to 31 August during the Winter Sprinkler Switch-off.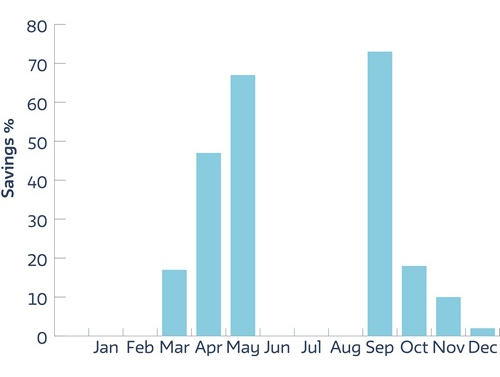 Of all the water that is used in a household, nearly half is used outdoors. Being smarter with how we water our gardens and turning irrigation off for the Winter Sprinkler Switch-off is a great way to make savings.
Eligible weather smart irrigation products
*Controllers reliant on the internet (via Wi-Fi) to obtain weather data must have a stable Wi-Fi connection for full weather based functionality. Please check signal strength and seek further advice if you have any concerns about the controller's suitability.
The Weather Smart Irrigation Rebate (Rebate) is available to residential property owners in the Perth metropolitan area who are customers of Water Corporation. A Rebate of up to $200 (or the total cost – whichever is the lesser amount) is available for the purchase, and programming of one eligible weather based irrigation product. The Rebate is only available on eligible products and services purchased between 1 September 2019 and 31 May 2020. The rebates will cease after 31 May 2020 or when the limit of 600 rebates is reached.
The Rebate can only be claimed by completing and submitting an online form (available from 1 September 2019) accompanied by copies of:
Proof of purchase in the form of a copy of the tax invoice/s detailing the eligible product and service; and,
A recent Water Corporation Water Use Account for the property receiving the eligible product and service; and,
The Waterwise Consultation and Programming service checklist completed by the Waterwise Garden Irrigator at the property.
The Rebate can only be claimed once by a customer. The Rebate can only be claimed on an eligible weather based irrigation product and a Waterwise Irrigation Consultation and Programming service. Customers who received the Waterwise Irrigation controller discount or rebate as part of the 2017-2018 or 2018-19 offers are not eligible to apply for this Rebate. Where a customer owns multiple properties, the Rebate will only be available for one property. The Rebate is non-transferable and valid for a limited time only or until 600 Rebates have been claimed. Payments will be made by electronic funds transfer once the Rebate claims have been validated. Final decisions regarding reward eligibility will be made by the Water Corporation.
The Corporation will not be liable for any claims or loss suffered as a result of the installation of the irrigation control unit unless, and only to the extent that, the Corporation has been negligent. The suppliers of the product and/or service will be responsible for managing all aspect of customer service associated with their products and services, including but not limited to bookings, installations, warranty claims and complaints.
Privacy statement: The Water Corporation is collecting your personal information to facilitate the provision of the Rebate to you and to assist us in better providing our services to you. We may disclose your personal information to our third party service providers who help us manage and operate certain parts of our business such as customer communications. Some of these service providers are located in countries such as the United States. Our Privacy Policy explains how you can seek access to or correct any personal information, how to complain about a privacy breach and how we will deal with a privacy complaint. To contact us, please email privacy@watercorporation.com.au