10 Aug 2020

|

Update
Denmark pipeline project boosts local job opportunities
The new Denmark pipeline project is doing more than just securing the town's long term water supply, it's also providing a welcomed economic boost.

Project benefits of the project are set to flow on in more ways than one now that work on the pipeline is in full swing.
Local employment opportunities
Around 50 local jobs have already been created in the Great Southern to support the project. This includes developing employment opportunities for Aboriginal people in the area, through a collaborative effort with Albany-based Aboriginal business, Impact Services.

So, what does this equate to?

Around $4.8 million is being injected into the region through the hiring of local workers and sourcing local materials and services.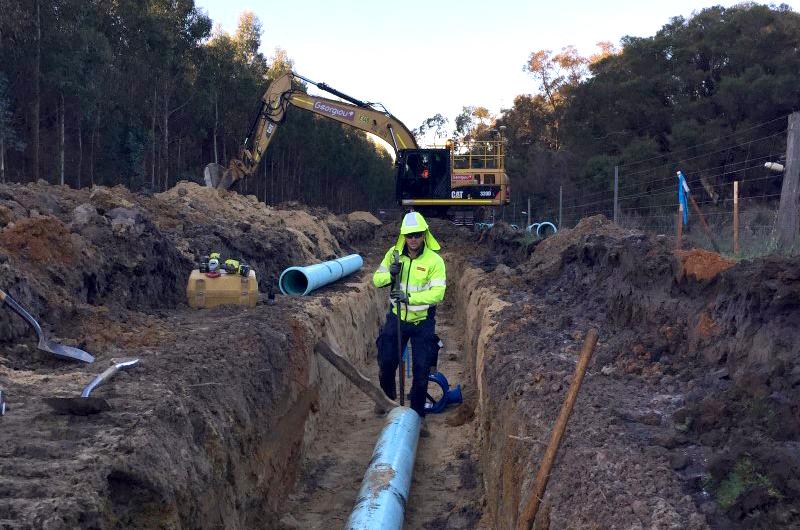 Hospitality industry set to benefit too
With the project expected to be completed in early 2021, the wider hospitality industry including accommodation businesses are set to benefit in several ways.

So far, there have been more than 40 accommodation bookings in the region as a result of the pipeline construction. And around 20 local businesses are also getting on board to support the project.
The 43km pipeline will connect Denmark to the Lower Great Southern Towns Water Supply Scheme, which currently supplies drinking water to Albany, Mount Barker, Kendenup and Narrikup. When completed, it will secure Denmark's water supply in the face of climate change.
Why saving water still matters
Although Denmark will soon have a long term water security solution, we're not out of the woods yet. Because we can no longer rely on rainfall as the main source of water supply, it's important residents keep their water use in check. Learn more about how declining rainfall is affecting the amount of water that flows into our dams and why we need to use our water wisely.

To help everyone keep up their water saving efforts, we've extended our Rainwater Tank Rebate program to May 2021. You can also find plenty of waterwise tips and advice for your home and garden to help you stay on track.