We manage over 2,500km of drains, operate 40% of Perth's urban drainage networks and provide drainage services to rural properties in Mundijong, Waroona, Harvey, Roelands, Busselton and Albany.
We manage our drainage networks in line with the requirements of the Water Services Act 2012 and our Water Services Licence.
We design, construct, operate and maintain main arterial drainage networks to protect properties from flooding. Local governments plan, construct, operate and maintain local drainage networks, while the Department of Water and Environmental Regulation provides the overall strategic drainage planning.
Engagement with the land use planning system provides an opportunity to facilitate best practice associated with drainage and coordination of the key stakeholders.
Stormwater in the urban water cycle
Stormwater runoff is a large part of the urban water cycle. The built form of our cities and suburbs should complement this cycle, especially as stormwater is an alternative water supply for non-drinking uses.
The Swan Coastal Plain is characterised by predominantly sandy soils, which enables stormwater to infiltrate the ground and recharge the shallow aquifers. Some of this water is then used to irrigate gardens and ovals through shallow groundwater bores.
In the urban environment, stormwater can be:
Locally recharged - soak wells, porous driveways etc
Collected off roofs and sealed surfaces and reused by storing in a tank or the aquifer
Collected by drains (primarily for flood protection) and then released back into the environment or reused
Approaches to stormwater management depend on the scale of its application. Below you will find examples of how we support the use of stormwater at the precinct scale and what management options are available at the development and lot scale.
Innovation in stormwater management
We support research, non-government organisations and local community groups undertaking programs to reuse stormwater and improve the health of our waterways. We are one of the industry partners of the Cooperative Research Centre (CRC) for Water Sensitive Cities (WSC).
We are one of the industry partners of the Cooperative Research Centre (CRC) for Water Sensitive Cities (WSC). The CRC WSC is a 10-year national research program which launched in 2012 with a research budget of $100 million. Working in partnership with over 70 academic, industry and government partners, it leverages research to deliver technical solutions, education and training programs, and enable industry engagement in the area of Water Sensitive Cities.

We have been actively involved in a number of CRC WSC projects, and a project working with the University of Western Australia is currently underway. This work is investigating how nutrients are transported in groundwater and surface water systems.
How you can help
There are a number of ways you can help protect our waterways within your home and garden.
Harvest - capture rainwater for irrigating your garden.
Replenish - install porous surfaces to reduce runoff around your home.
Care and protect- manage household chemicals so they don't reach our waterways.
Ask - contact your local council to see how they are managing stormwater in your area. If you are currently building a property you can discuss with your developer how Water Sensitive Urban Design (WSUD) principles can be integrated in the structure.
Join - you might also like to volunteer in a local environmental group. The Conservation Volunteers facilitate a range of projects you can get involved in and don't forget that your local council may run conservation initiatives and environmental groups in your area.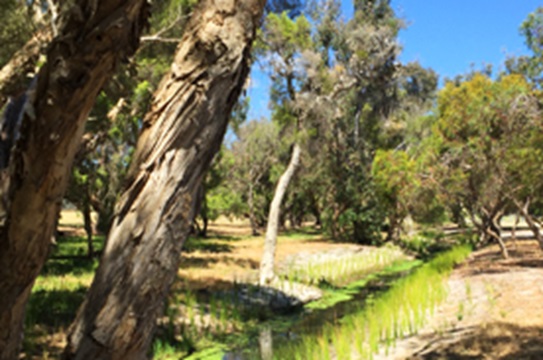 Drainage for liveability
We're transforming stormwater drains into usable community green spaces.
Get involved