Bibra Lake odour control facility works
Project goal:
As an operational priority, we continue to investigate a long-term solution to effectively manage odour originating from a wastewater facility in the Bibra Lake area. This facility filters gas from a network of large wastewater pipelines that converge near Bibra Drive but has not been operating as intended. These critical pipelines carry much of the wastewater from the southern metropolitan area to Woodman Point Wastewater Treatment Plant.
The next phase of work to refurbish and upgrade the facility will begin during the first week of May 2021 and take around four weeks to complete. During this time, the flow of odorous gas will remain at a minimum. These works are not expected to cause any increase to odour levels in the area, and the site will continue to be well-monitored. Residents may notice limited heavy vehicle and construction activity at the site, with little impact to the flow of traffic.
Once these works are finished, the facility will continue to function at a minimum until further research and monitoring is complete.
We expect the facility to operate at full capacity later this year. Within the first few weeks of reinstatement, intermittent odour may be experienced, and if so, the area highlighted below, along Bibra Drive, closest to the odour control facility, is most likely to be affected.
Status:
In progress
Delivery Date:
Refurbishment works at the odour control facility are due to be completed by the end of May 2021.

Further monitoring and research will continue until the facility is switched on to operate at full capacity again, later this year.
Where is it happening?
Work is taking place at the odour control facility next to the drainage pump station on Bibra Drive, Bibra Lake.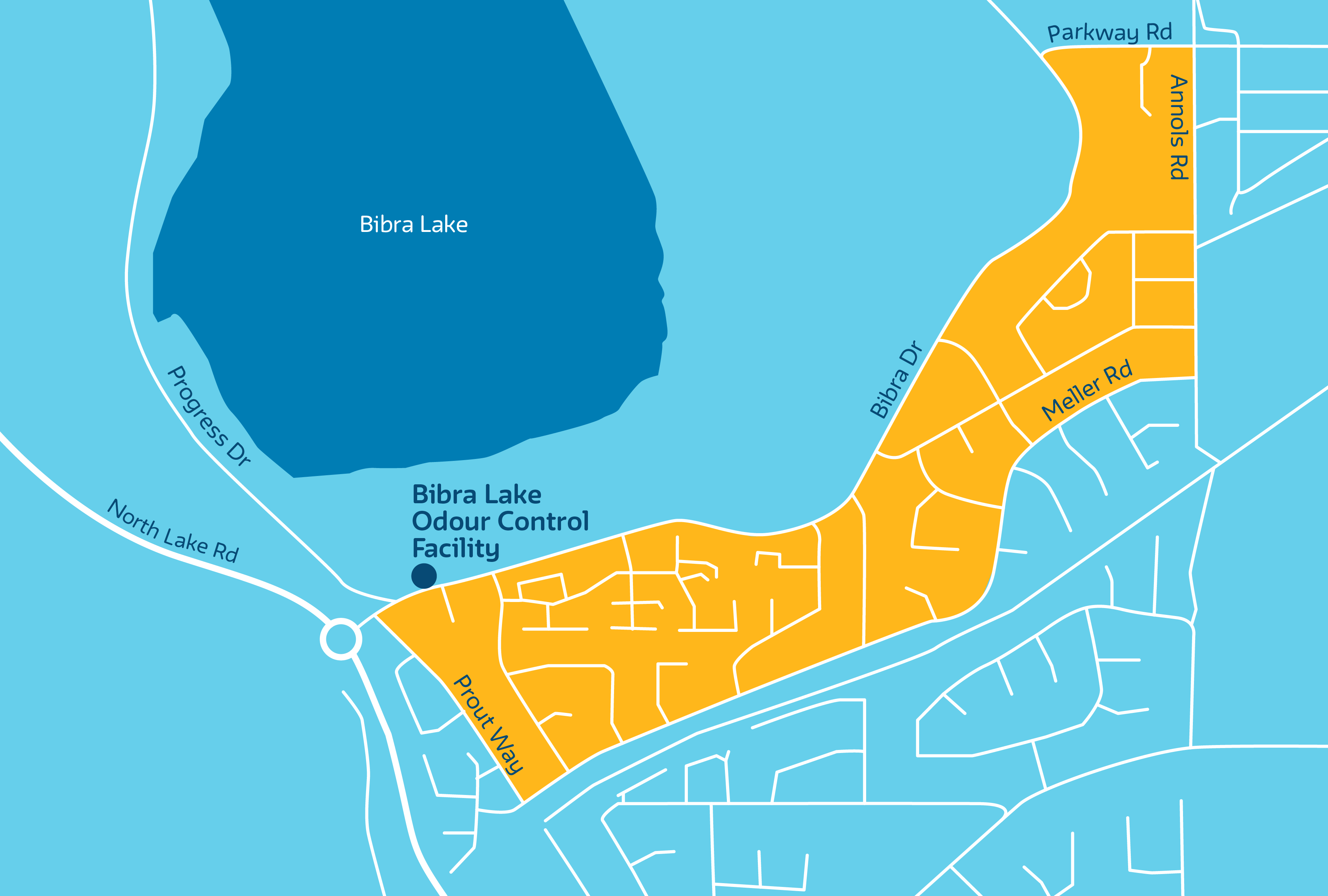 When is it happening?
Investigation and increased maintenance work has been in progress since March 2020 and will continue so that optimal function of the facility is maintained.
Why is this work important?
A well-functioning odour control facility is vital to maintain the condition and lifespan of our wastewater pipelines, and will provide valuable data to inform our longer-term wastewater network planning.
What are the impacts?
Local Residents may notice intermittent noise due to construction activity and heavy vehicles at the site, during the month of May.
Temporary, intermittent odour may be experienced in August when the site is recommissioned. Continuous and thorough monitoring will continue so that we can resolve any odour issues as promptly and effectively as possible.
We are mindful of the impact odour can cause and treat these issues as a priority. We sincerely apologise for any inconvenience residents may experience while work is in progress and invite you to provide your feedback and report odour via our 24-hour Faults, Emergencies and Security line on 13 13 75.