Many of our Waterwise Councils provide education, training materials and verge rebates for residents to improve water efficiency and build waterwise communities. Through community programs, participants learn about how to improve water efficiency in their homes and gardens and the innovative ways in which they can reduce their water use.
The City of Vincent launched its Adopt a Verge program in 2014 , which has now helped over 400 households to convert turfed or weedy verges into waterwise native gardens. These new waterwise gardens provide more aesthetically pleasing verges, uses less water and food and habitats for urban wildlife like birds and insects. The City's participation in the Waterwise Council Program has provided access to additional funding to support its verge program, allowing more local households to benefit than would otherwise have been possible.
The City of Mandurah's popular Waterwise Verge Program has transformed nearly 200 verges into waterwise gardens since 2017, with over 220 community members involved. Participants are invited to an informative workshop and are given a variety of native waterwise plants and mulch for their verges. The program is offered to homeowners and residents of the City of Mandurah and is partly funded and fully supported by Water Corporation.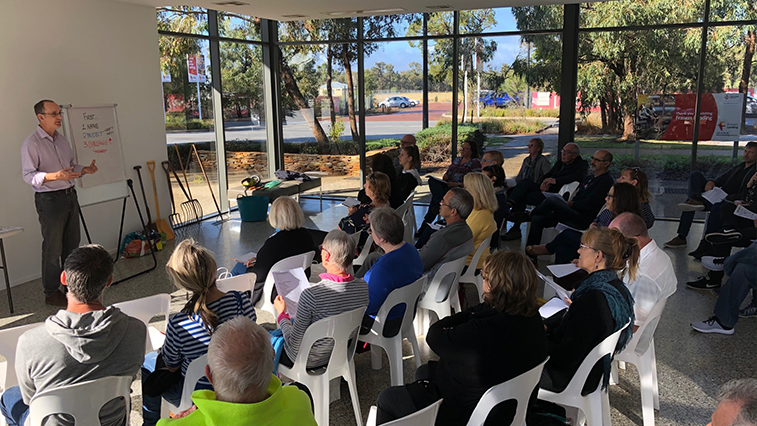 Waterwise workshop - City of Mandurah.
The City runs workshops to help residents understand how small changes can have a big impact such as responsible fertiliser application and protecting local waterways through community initiatives like the Blue Crab School Engagement Program. The program talks to local students about how they can look after the water in the City and how nutrients, hydrocarbons and litter that washes down drains, can potentially harm the aquatic environments.
The City of Swan supports its local community by providing the very popular Thinking Green sustainable living workshop series, to improve water literacy and reduce water use at home and in the garden for its residents. The City's officers get out and about at large events with the Think Green mobile education trailer to share more information and engage the community in activities related to improving water quality and increasing water efficiency.
The City also provides library workshops, school visits and training opportunities for Friends Groups and Catchment Groups. Volunteers from over 30 bushland volunteer groups in the City of Swan have helped get innovative projects off the ground.
A number of other Waterwise Councils also provide waterwise gardening workshops for residents to learn about waterwise practices. The City of Stirling engages with 22 local schools through their Living Green Schools Program to educate young residents about the importance of water conservation and sustainability. The Town of Cambridge provides waterwise gardening workshops in collaboration with its Waterwise Verge Makeover Program to aid in establishing waterwise gardens in streetscapes. Shire of Serpentine Jarrahdale residents are also encouraged to create waterwise verges vegetated with local native plants, which works hand-in-hand with the Shire's Free Verge Plant Program which provides free local native seedlings to residents for planting on their verges.
Other waterwise community programs include the Town of Cottesloe's Waste and Sustainability Calendar that enlists the help of local schools to create artworks for its environmental events and the Town also encourages schools to be involved in local tree-planting activities. The Town supports its local sporting groups, clubs and restaurants with access to annual eco audits and water audits to provide practical solutions to save water.