Irrigation and landscaping pratices
Climate change is expected to further increase temperatures and reduce rainfall in the future. A reduction in water availability can lead to increased water demand as more irrigation will be required to maintain amenity in parks and landscaped areas. Waterwise Councils are doing their bit by managing water sources responsibly and utilising best-practice smart irrigation technology, waterwise landscaping, and water sensitive urban design.
The City of Joondalup continually seeks to use best-practice irrigation technology to ensure efficient use of groundwater to irrigate the City's parks and open spaces. This has included the use of rain sensors and soil moisture sensors to inform irrigation schedules and bore meters to monitor groundwater usage.
Recently the City has installed three weather stations and is installing irrigation controllers in its parks which link to a web-based central control system. The weather stations collect data on air temperature, relative humidity, wind speed, wind direction, atmospheric pressure, yearly rainfall, solar radiation and evapotranspiration. Data collated from the weather stations can be programmed to adjust irrigation programs for parks automatically. All irrigation controllers are remotely accessed through the central control system allowing more responsive irrigation practices.
The City of Stirling also use weather stations, soil moisture sensors and probes to improve irrigation efficiency. The combination of technologies gives day to day readings of climatic conditions and soil moisture levels in sports ovals, passive areas and mulched areas. This means outdoor spaces are only irrigated when they need it as irrigation systems are automatically switched off during rain events.
The Town of Cottesloe's central control system provides the Town's officers are provided with real-time alerts for pressure abnormalities that can often indicate a burst or blockage so that any leaks or burst can be promptly be attended to.
The Shire of Serpentine Jarrahdale has employed creative and innovative ways to save water and is currently looking at capturing rainwater from large facility roofs to store in aquifers and reuse when it's needed. Additionally the Shire has implemented technology upgrades to enable the active monitoring of water and fertiliser use on active sporting grounds.
Through two of their key projects, the Shire aims to divert stormwater from a major road upgrade into detention basins (to be cleaned by nutrient stripping vegetation before entering local waterways) and also divert runoff from a sporting field upgrade away from natural area reserves into the stormwater system.
The Town of Mosman Park is implementing a program to upgrade and increase efficiency in the Town's irrigation systems. This includes re-calibration of the bore pumps, the installation of a weather station to assist in the programming and matching of evapotranspiration and output of water, and upgrading of controllers to allow syncing with the weather station and correction of sprinkler heads to improve water distribution.
Landscaping practices from the Town also include use of native plants when replanting, which in one location on the Town's foreshore has reduced water use significantly and irrigation at this site may be removed in the future. This is also the case for planted roundabouts where low water demand plants have been used which can thrive with only a small amount of water.
Recently the Town took over the care, control and management of a new reserve. This year a water meter was installed on the irrigation system so that the water usage can be recorded and reported. The Town has identified some other locations that could also be sub-metered to improve irrigation monitoring and reduce water consumption.
The City of Perth manages over 99 hectares of irrigation turf and landscaped garden beds, as well as 650 planter boxes throughout the city. The City has undertaken several native garden conversions in iconic locations in the City to reduce water demand and also bring native plants into the City for West Australians and visitors to enjoy.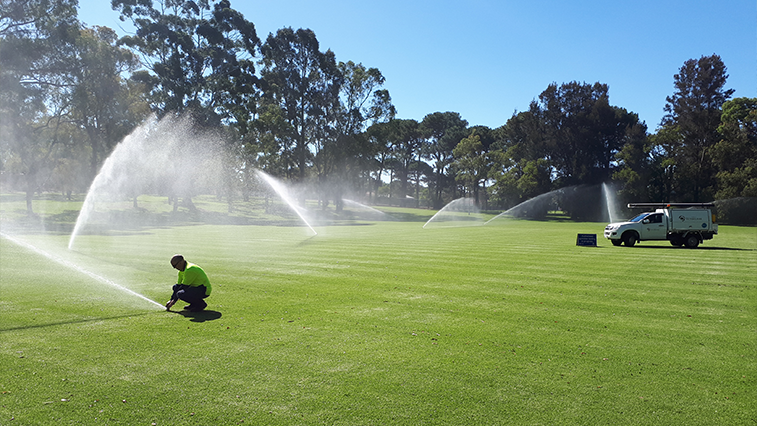 Town of Victoria Park
City of Vincent has implemented an Ecozoning Program, which has supported the conversion of underutilised turfed areas of public open space into waterwise native gardens which now provide a home for the local bees and native insects. Home improvements have also been achieved for wildlife by the re-engineering of the lakes at the iconic Hyde Park which now use significantly less groundwater to keep them full.
Learn more about waterwise irrigation practices