22 Aug 2017

|

Media Release
Community facility opens at Broome wastewater treatment plant
The Broome community has a new spot to watch birds, or Barndalmarda in the local Yawuru people's language, with Water Corporation opening a birdwatching facility at its Broome South Wastewater Treatment Plant.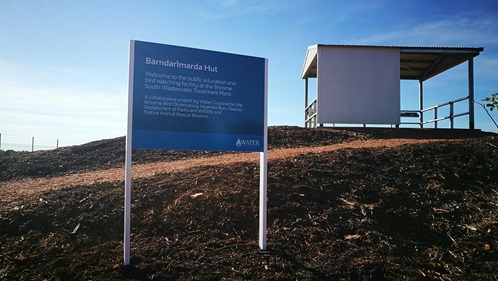 The facility – known as The Barndalmarda Hut – is the result of a collaboration between Water Corporation, the Broome Bird Observatory, Native Animal Rescue Broome, Nyamba Buru Yawuru, and Department of Biodiversity, Conservation and Attractions.
Water Corporation North West Regional Manager, Rino Trolio, said the facility provided information about various species of birds, local reptiles and the wastewater treatment process.
"The wastewater treatment plant is famous for attracting a diverse range of bird species and is well known to the local and national birdwatching community," Mr Trolio said.
"The Barndalmarda Hut provides the community with a new platform to view the thousands birds of that visit, roost and breed at the wastewater treatment plant.
"The facility will contribute to Broome's active environmental community and provide local students with a greater understanding of the important role of water recycling in Broome.
"Recycled water from the Broome South Wastewater Treatment Plant keeps many areas of Broome green, including the golf course, sports ovals at the Broome Recreation and Aquatics Centre, Saint Mary's College and Haynes Oval.
"We're proud to partner with local stakeholders to demonstrate how working together can produce exceptional outcomes for the wider community."
The Barndalmarda Hut is located off Clementson Street in Broome. For more information about the visiting the facility visit Water Corporation's website watercorporation.com.au
---
Media Enquiries:
Contact: Sandy Hooft
Position: North West Region Communications Coordinator
Mobile: 0408 950 105