28 Aug 2017

|

Media Release
Help Water Corporation name its new four legged employee
Water Corporation is calling on Western Australians for help to choose a name for its newest and furriest employee – a female English springer spaniel who will be trained to sniff out hidden leaks in below ground water mains.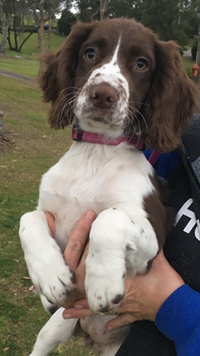 Following on from a successful trial earlier this year, Water Corporation has recruited its own leak detection dog, in an Australian first.
The four month old puppy is about to begin 12 weeks of intensive training with a specialist dog trainer in New South Wales before she makes the journey to Perth and puts her nose to work to save our precious water.
But in order to start her training, Water Corporation needs to hound you to decide on a name!
You can vote on its Facebook page on a shortlist of female dog names, which only have one or two syllables to make training easier, and also have a connection to water. Voting closes on 6 September 2017.
The shortlist of names to vote for on Facebook are:
Brooke

Splash

River

Kep (Noongar word for water)

Piper
Fun facts:
English springer spaniels are often used as sniffer dogs due to their amazing sense of smell, willingness to work hard and ability to cover rough terrain.
Water Corporation's gorgeous dog is the daughter of one of the dogs who participated in the trial, Tommy, so she has a great pedigree.
Water Corporation has more than 34,000km of water mains across the State, across an area of more than 2.6 million kilometres, making us the largest water utility in the world in terms of the geographical area serviced. This is why Water Corporation is always looking for new and innovative ways to detect leaks and save water.
---
Media Enquiries:
Contact: Media team
Phone: (08) 9420 2555