22 Jun 2017

|

Media Release
Campbell Primary School celebrates a decade of waterwise education
Campbell Primary School in Canning Vale celebrated 10 years participating in Water Corporation's Waterwise Schools Program at a special assembly today.
Over the last decade teachers at the school have been educating students on the need to value, protect and conserve water resources.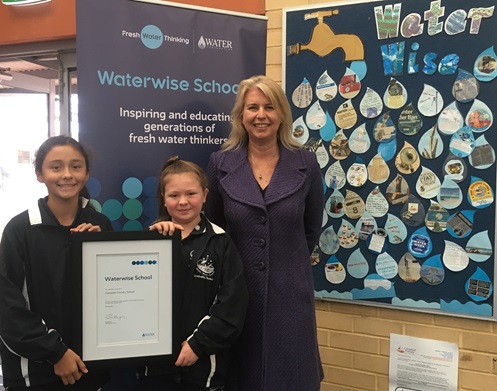 Water Corporation General Manager Customer and Community Group Catherine Ferrari thanked the school for sharing the waterwise message.
"In our drying climate it's important the next generation are aware of how precious water is and Campbell Primary School has been sharing this message for 10 years," Ms Ferrari said.
"Students are the water users of the future, so it is vital teachers continue to educate students about the value of water. Thank you to students and teachers at Campbell Primary School for your dedication to the program."
Campbell Primary School's Waterwise Coordinator Maxine Wylie said water was such a precious resource needed for all of us to survive.
"It is our responsibility to respect it and do all that we can to sustain its existence," Mrs Wylie said.
"Primary school students are a perfect vehicle to be spreading that message and their education about such community issues is necessary to build awareness in their school and back at home."
Mrs Wylie said the Waterwise program helped teachers cover all the connecting water concepts in an organised and age-appropriate sequence.
The Waterwise Schools Program takes a long-term approach to water education and behavioural change, and complements the curriculum across all major learning areas.
Find out more about the Waterwise Schools Program.
---
Media Enquiries:
Contact: Media team
Phone: (08) 9420 2555