12 Oct 2017

|

Media Release
Metropolitan region weekly water update data as at 12 October 2017
Warmer weather is here – time to prepare your garden
While Perth has experienced a wet start to spring – with September rainfall near average and the wettest in four years – the Bureau of Meteorology has forecast warmer weather for the next few days: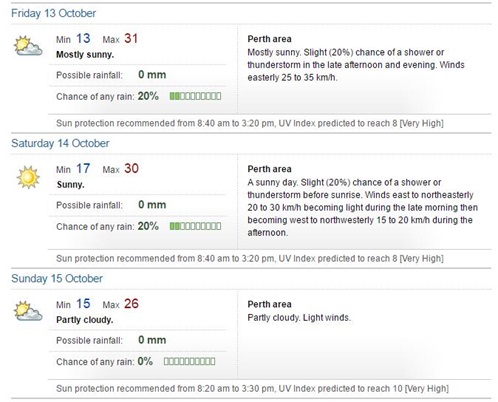 To help prepare your garden, Water Corporation launched two water saving programs this week. In Perth around 40 per cent of household water use occurs outside the home, so there are significant savings to be made through a few small, waterwise changes this spring.
The Waterwise Garden Rewards Program allows households to purchase selected waterwise mulch, soil improver and soil wetting agent from Bunnings stores and receive one, two or three more products free of charge. To get involved, register on our website, select up to three of the offers available and you will then be emailed a voucher to redeem at a Bunnings store.
For those who want to set and forget their sprinklers, the Waterwise Irrigation Controller Offer is for you. The offer is available through Waterwise Irrigation Specialists for metropolitan residents and allows households to receive a 50 per cent discount (up to $350) on the supply and installation of a weather based irrigation controller. Residents can save up to 15 per cent of household water use.
Weather based controllers ensure sprinkler systems are set to water on the correct day and automatically make irrigation adjustments based on weather data from local weather stations and the needs of the garden. Details are on our website.
Water use
Our average daily water use last week was 659 million litres, which was below the forecast of 708 million litres per day. This water was used by the two million people who are connected to the Integrated Water Supply Scheme, which delivers water to Perth, parts of the South West, Agricultural and Goldfields regions.
Our financial year to date water use is 61.25 billion litres – good news as it's less than the 61.78 billion litres we forecasted.
Dam levels
Over the last seven days Perth's dam storage levels increased from 45.1% to 45.2% (0.1 percentage points). This was partly due to them receiving about 900 million litres of inflow from streams. This brings the total streamflow to 80.1 billion litres since 1 May 2017. The post-1975 average for annual streamflow is 189 billion litres. Perth's dams also store ground and desalinated water that is transferred from our treatment plants.
Sprinkler roster compliance
The two-day-per week sprinkler roster now applies, and this week our inspectors issued 28 warnings and 43 fines in the metro region. This is compared to 24 warnings and 27 fines the previous week. Year to date we have taken a total of 7,580 actions (warnings + fines) compared to 8,438 actions for the same period in 2016.
Rainfall
The average monthly rainfall for October is 51.8mm but for the last three years we have received less than this amount. So far this month we have received 7.20mm of rainfall.
Since 1 January 2017, we have received 773.80mm of rainfall compared to the cumulative average of 811.2mm (January to October).
---
Media Enquiries:
Contact: Louise Fleming
Position: Senior Adviser - Media
Phone: (08) 9420 2555