14 Sep 2017

|

Media Release
Metro region weekly water update for 14 September 2017
Does Perth really use that much water?
During these early weeks of spring, the streamflow into our dams usually slows down to a trickle, and the Water Corporation's focus starts to turn to customer water use. Over the next few days our spring demand management advertising campaign will move from its first phase (why we need to save water) to its next phase (ways to save water).
But does Perth really use that much water? Have a look at the pic attached to this week's update, which shows the average annual residential water supplied in each major Australian urban centre for the last five years.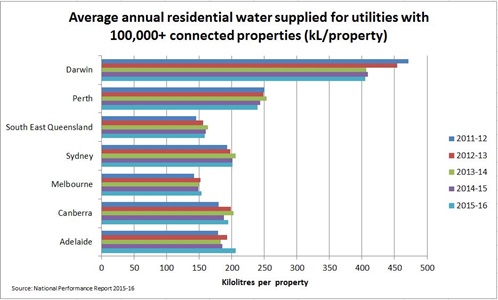 The average volume is influenced by a number of factors, including climate, rainfall, water conservation measures (including water restrictions), the available water supply, housing density, and the price of water. Of these rainfall is arguably the most influential factor affecting residential consumption. All things being equal, an increase in rainfall should reduce demand and a decrease in rainfall should increase demand (National Performance Report 2015-16).
In 2015-16 maximum temperatures across much of Australia were above average, which led to 9 out of the 14 major Australian utilities reporting increases in average water supplied compared to 2014-15. But the good news is while Perth was the second highest user of water after Darwin – we actually saw a 2 per cent reduction in 2015-16.
For more on Perth's water use, and how it compares to other urban centres read this article written by Emma Wynne for ABC News (Study suggests Perth uses double the water of other capitals, but is that the whole story?). In the article our CEO Sue Murphy explains why Perth's water use is high compared to other urban centres and the reasons for this.
Our average daily water use last week was 626 million litres, which was slightly above our forecast of 610 million litres per day. This water was used by the two million people who are connected to the Integrated Water Supply Scheme, which delivers water to Perth, parts of the south west, Agricultural and Goldfields regions.
Our financial year to date water use is 44 billion litres, which is slightly more than the 43.7 billion litres we forecasted.
The two-day-per week Sprinkler roster now applies, and this week our inspectors issued 27 warnings and 28 fines in the metro region. This is compared to 22 warnings and 40 fines the previous week.
Over the last seven days Perth's dam storage levels increased from 42.3% to 42.5% (0.2 percentage points). Our dams received about 1.1 billion litres of inflow from streams this week, which brings the total to 67.5 billion litres since 1 May 2017. The post-1975 average for annual streamflow is 189 billion litres. The average for the last five years is about 50 billion litres.
The annual rainfall total since 1 January is 714.6mm. While it may feel like it's been a wetter than normal year the cumulative average is 759.4mm (January to September).
And last but not least… don't forget to check out our Dam Cam… https://www.watercorporation.com.au/water-supply/our-water-sources/dams/dam-cam
---
Media Enquiries:
Contact: Clare Lugar
Position: Manager Media & Strategic Communications
Phone: (08) 9420 2555