10 Aug 2020

|

Media Release
Historic wooden road surface uncovered during Pipes for Fremantle work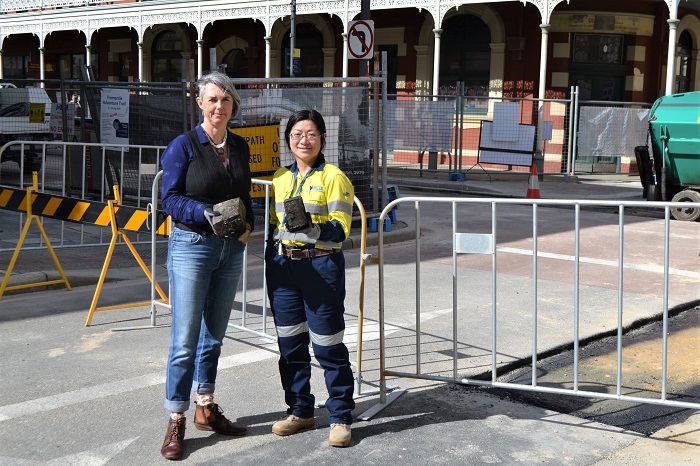 The first wooden blocks used to pave Perth roads over a century ago have been uncovered during essential works to replace ageing water mains in Fremantle.

The jarrah blocks were found in excellent condition beneath the bitumen near the Mouat and High Street intersection during Water Corporation's Pipes for Fremantle construction works.

Water Corporation Assets Planning and Delivery General Manager Evan Hambleton said an on-site archaeologist examined and recorded the blocks before they were re-covered. "It was exciting to uncover this fascinating piece of State history and see just how far road infrastructure engineering has progressed since the early 1900s," he said.

"To ensure the blocks were not disturbed and this important discovery preserved, the project was redesigned and the new pipe rerouted."

According to historical records, the first wooden road block was laid on High Street by the then Mayor of Fremantle Mr E. Solomon on 18 February 1898. By November 1903, Cliff and Mouat streets were also surfaced with these blocks.
To construct wooden roads, the surface was excavated to a depth of two feet before being filled with concrete. Jarrah blocks, roughly half the size of a standard brick, were immersed in boiling tar, cooled slightly and placed in an interlocking pattern across the road.
Pipes for Fremantle project archaeologist Fiona Hook said it was an amazing feeling to discover the blocks fully intact just underneath the asphalt. "There's a window into the past right below our feet, whether it's historical heritage like this road or Aboriginal occupation of an area prior to European settlement," she said.
"It's important for people to understand what they're walking over – in most places in WA, there's a whole subterranean history literally beneath our feet."
City of Fremantle Heritage Coordinator Gena Binet said: "The City of Fremantle is investigating how this hidden history could be interpreted to enrich our understanding of the City and the experience of residents and visitors".
Several loose blocks displaced from the original road surface are on display in the Pipes for Fremantle pop-up information centre at 66 High Street; open Tuesdays and Thursdays from 10am to 4pm by appointment. To book an appointment, email pipesforperth@watercorporation.com.au
For more information on the Pipes for Fremantle project, visit https://yoursay.watercorporation.com.au/pipes-for-fremantle.
Did you know?
According to records, a quarter of a million jarrah cubes were laid onto Fremantle streets by 1903.
The cost for paving Cliff and Mouat Streets with wood was just over 3,000 pounds – this was considered relatively cheap at the time.
The oldest pipe Water Corporation is replacing to secure Fremantle's water supply is 126 years old and is along Marine Terrace – that's a little older than the historic jarrah wood blocks found on Mouat Street.
Since 2016, Water Corporation's Pipes for Perth program has replaced more than 160 kilometres of water mains across Perth.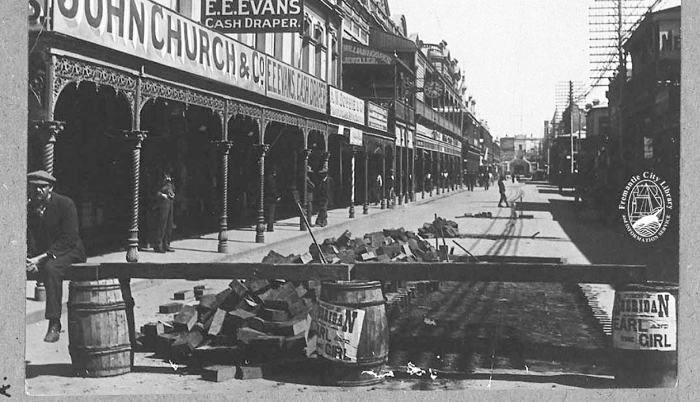 Photo captions:

Top (l to r): Pipes for Fremantle on-site archaeologist Fiona Hook with Project Manager Wing Leung
Bottom: Laying jarrah blocks and tram track on High Street, west of Pakenham Street, Fremantle, in 1905
Media contact:
Media Team
P: (08) 9420 2555
E: media@watercorporation.com.au

Follow us on Twitter @watercorpwa