28 Aug 2020

|

Media Release
WA businesses celebrated for commitment to the waterwise message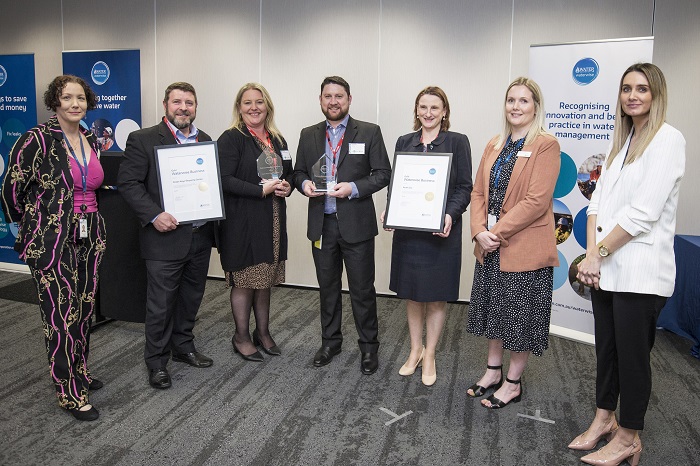 Billions of litres of water saved by Waterwise Business Program participants
Perth Zoo and Ocean Keys Shopping Centre receive Platinum recognition

16 Perth offices and five developments recognised through Waterwise Office and Development Programs
Western Australia's leading waterwise businesses have been recognised for helping save over nine billion litres of precious water as part of the Waterwise Business Program for 2020.
Water Minister Dave Kelly today congratulated program award recipients including Platinum Waterwise Businesses of the Year, Perth Zoo and the Ocean Keys Shopping Centre in Clarkson.
A further 14 businesses, including eight from regional Western Australia, received Gold Waterwise recognition for their commitment to efficient and sustainable water use.
The Waterwise Business Program provides water saving support to 248 business customers who each use more than 20 million litres of scheme water annually.
Since 2007, the program has saved 102 billion litres of precious water - equivalent to 45,330 Olympic-sized swimming pools.
Mr Kelly today also recognised participants in the Waterwise Office and Waterwise Development programs.
A partnership between the Water Corporation, Property Council and the City of Perth, the Waterwise Office Program saw five workplaces receive Gold recognition, nine achieve Silver status and two endorsed as Perth's newest waterwise offices.
The Waterwise Development Program is delivered by the Water Corporation and UDIA (WA) to support the creation of sustainable future communities. Under the program, two new developments were endorsed as Waterwise, and four achieved Gold recognition for driving innovation and best practice waterwise community outcomes in sustainable urban developments. The Amble Estate in Girrawheen was simultaneously endorsed as Waterwise and achieved Gold recognition.
The Waterwise Business, Office and Development programs are existing initiatives that contribute to the WA Government's Waterwise Perth Action Plan. This plan sets the direction for transitioning Perth to a waterwise city, and creating cool, liveable, green and sustainable communities in which people want to live, work and spend their time.
Comments attributed to Water Minister Dave Kelly:
"Through initiatives like the Waterwise Business, Office and Development programs, the Water Corporation and the McGowan Government are supporting business customers to manage their water use in the most efficient and sustainable way possible.
"In the face of climate change, we have a shared responsibility to conserve water and help secure our fresh water future. It's particularly encouraging to see participants from across different industries and sectors committing to the waterwise message.
"Thanks to the dedication of these businesses and others like them, over nine billion litres of precious water was saved in the last reporting year alone."
Minister's office - 6552 6100
2020 Waterwise Business Program - Platinum recipients
| | |
| --- | --- |
| Recipient | Location |
| Perth Zoo | South Perth |
| Ocean Keys Shopping Centre | Clarkson |
2020 Waterwise Business Program - Gold recipients
| | |
| --- | --- |
| Recipient | Location |
| Southern Cross Care Success | Success |
| Beatty Park Leisure Centre | North Perth |
| Craigie Leisure Centre | Craigie |
| Stockland Riverton Shopping Centre | Riverton |
| Maddington Central | Maddington |
| Crown Perth Casino | Burswood |
| Kanowna Belle - Northern Star Resources | Goldfields |
| BHP Nickel West Kambalda | Kambalda |
| St Barbara Limited | Leonora |
| Mantarays Ningaloo Beach Resort | Exmouth |
| RAC Exmouth Cape Holiday Park | Exmouth |
| Alcoa Pinjarra Refinery | Pinjarra |
| Rio Tinto Dampier Salt | Dampier |
| Broome International Airport | Broome |
2020 Waterwise Office Program - New Waterwise endorsed offices
| | |
| --- | --- |
| Recipient | Location |
| 50 St Georges Terrace - St Martins Centre | Perth CBD |
| One40William - Cbus Property | Northbridge |
2020 Waterwise Office Program - Gold recipients
| | |
| --- | --- |
| Recipient | Location |
| 125 St Georges Terrace - Brookfield Place Tower 1 | Perth CBD |
| 469 Wellington Street - Albert Facey House | Perth CBD |
| 2 Havelock Street - Dumas House | West Perth |
| 197 St Georges Terrace - GDI No 35 Pty Ltd | Perth CBD |
| 629 Newcastle Street - John Tonkin Water Centre | Leederville |
2020 Waterwise Office Program - Silver recipients
| | |
| --- | --- |
| Recipient | Location |
| 27-29 St Georges Terrace - Council House | Perth CBD |
| 40 St Georges Terrace - St Martins Centre | Perth CBD |
| 863 Hay Street - Cloisters Square | Perth CBD |
| 200 St Georges Terrace - Cloisters Square | Perth CBD |
| 250 St Georges Terrace - QV1 | Perth CBD |
| 151 Royal Street - Department of Finance | East Perth |
| 189 Royal Street - May Holman Building | East Perth |
| 1 Adelaide Terrace - GDI No 36 Pty Ltd | East Perth |
| 100 St Georges Terrace - ISPT Pty Ltd | Perth CBD |
2020 Waterwise Development Program - New Waterwise endorsed developments
| | |
| --- | --- |
| Recipient | Location |
| The Amble Estate | Girrawheen |
| Hamilton Senior High School Redevelopment | Hamilton Hill |
2020 Waterwise Development Program - Gold recipients
| | |
| --- | --- |
| Recipient | Location |
| Cygnia Cove Private Estate | Waterford |
| Vivente Hammond Park | Hammond Park |
| White Gum Valley | Fremantle |
| The Amble Estate | Girrawheen |