18 Dec 2020

|

Media Release
$12 million pipeline to further secure future water supply to South-West communities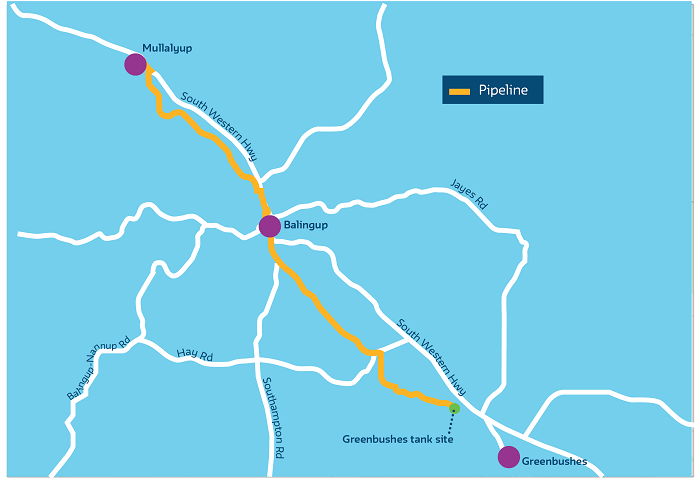 Water Minister Dave Kelly today announced the commencement of construction of a 17-kilometre pipeline connecting the South-West towns of Mullalyup and Kirup to the Warren Blackwood Water Supply Scheme. The new pipeline will alleviate the need for water carting and securing supply in the face of climate change.
In 2018, Kirup Dam, which was also providing drinking water to Mullalyup, was taken offline due to declining streamflow and water quality concerns caused by the subsequent low water levels. Currently, around 80,000 litres of water are carted daily to Kirup, where it is pumped south to Mullalyup via an existing pipeline.
The new pipeline, known as the Greenbushes to Kirup link, will see drinking water piped from Greenbushes through Balingup and north to Mullalyup, linking with the existing line to Kirup.
In addition to reducing truck movements on local roads, the $12 million Water Corporation project will provide greater supply security by connecting around 300 customers in Mullalyup and Kirup to the Warren Blackwood Water Supply Scheme.
Seven South-West communities are already connected to the scheme including Nannup, Manjimup, Bridgetown, Hester, Boyup Brook, Greenbushes and Balingup.
The new pipeline will further increase water supply security by also providing a second supply link to Balingup.
Western Australian company, Valmec was selected as head contractor with South-West and Aboriginal-owned businesses to benefit from subcontracts soon to be announced.
The pipeline route has been carefully planned to minimise environmental impact and ensure local businesses can continue trading during construction.
Construction is expected to begin next month and finish in mid-2021. Find out more at http://www.watercorporation.com.au/GTKlink
Comments attributed to Water Minister Dave Kelly:
"Traditionally, many smaller South-West towns have sourced water from local dams, but the impact of climate change means communities can no longer rely on rainfall alone.
"The south-west of WA is one of the areas on the planet most affected by climate change through declining rainfall. The McGowan Government is taking action to further secure future water supply in communities across the region by investing in projects like the Greenbushes to Kirup link.
Comments attributed to Collie-Preston MLA Mick Murray:
"For residents of Mullalyup and Kirup, being connected to the Warren Blackwood Water Supply Scheme offers far greater supply certainty now and into the future. It also means Water Corporation will no longer need to cart water to Kirup, which will reduce truck movements on local roads.
"It's particularly pleasing to see the project designed in such a way that minimises environmental impact and creates opportunities for local businesses."
Minister's office - 6552 6100