26 Feb 2020

|

Media Release
Nine successive wins for Water Corporation's Lifeblood Team
Water Corporation employees have done it again, getting their blood pumping 1,325 times in 2019 to retain the title of WA's largest corporate blood donor.
The healthy competition, which is coordinated by Australian Red Cross Lifeblood (formerly Australian Red Cross Blood Service), encourages businesses, educational institutes, and community groups to compete with others in their state to be the biggest blood donor.
Taking out the title in the 1,000 to 4,999 member category since 2011, Water Corporation beat runner-up St John Ambulance by 63 donations.
Water Corporation Chief Executive Officer, Pat Donovan, said he was incredibly pleased with the increasing number of employees willing to become involved each year.
"I am immensely proud of the commitment shown by our employees to give back to the community by donating blood year after year," Mr Donovan said.
"Since 2011, Water Corporation employees have donated 6,301 times and contributed to saving 18,903 lives.
"That's an incredible amount and it's making a real difference to the lives of cancer patients, surgical and trauma patients, people with immune disorders, and many others.
"I would also like to thank our Water Corporation Lifeblood Team Champion, Chris Le Juge De Segrais, who with a team of coordinators book the appointments and organise transport so we can make donations. Without her we wouldn't be as successful as we are."
Since becoming an employee, Ms Le Juge De Segrais has donated more than 137 times and was recognised by the Blood Service in 2013 and 2015, when she won Coordinator of the Year through the program.
Australian Red Cross Lifeblood is one of Water Corporation's partners through its Employee Giving Program, which allows employees to give back to the Western Australian community.
To donate, contact Australian Red Cross Lifeblood on 13 14 95 or go to www.lifeblood.com.au
Did you know?
One in three people will need blood or blood products in their lifetime

One third of blood donations help treat people with cancer

Water Corporation allows its employees to donate during work hours, with a pick-up and drop-off service available over lunchtime

Almost half of all blood donations in Australia are actually plasma donations. Plasma is a powerful and versatile part of your blood, full of special proteins that can be used in 18 different life-giving ways
Those who cannot donate can still participate by spreading the word to their workmates letting them know that every time they donate they can save up to three lives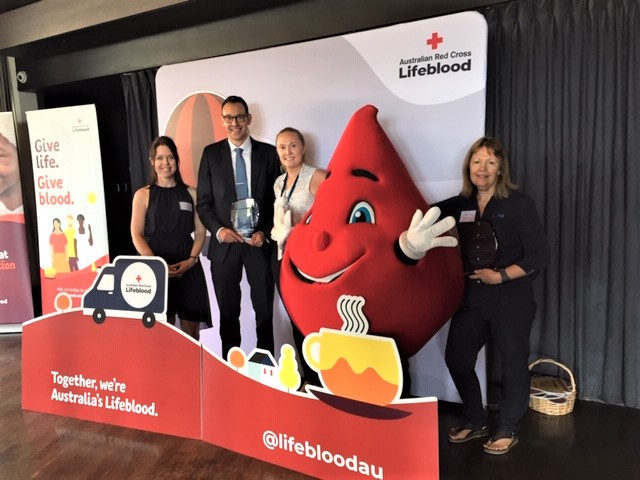 ---
Media Enquiries:
Contact: Media Team
Phone: (08) 9420 2555