08 Jan 2020

|

Media Release
Vasse Diversion Drain sand bar reopened
The natural sand bar which forms in summer at the beach entrance to the Vasse Diversion Drain was manually re-opened this week ahead of schedule due to favourable weather patterns and tidal movements.
The Department of Water and Environmental Regulation (DWER) and Water Corporation made the joint decision to open the Vasse Diversion Drain sand bar yesterday Tuesday 7 January 2020 following a successful trial opening in February last year.
The trial opening aimed to improve water quality in the drainage system to help flush more sea water in to the Vasse Diversion Drain system.
DWER has been monitoring water quality in the lower sections of the drain since the trial first began with promising results – fish are populating the lower sections of the drain and improving the habitat for other native animals such as small mammals and birds.
Water Corporation South West Regional Manager John Janssen said given the low rainfall this winter and the warm summer weather now was a good time to re-open the Vasse Diversion Drain.
"In the winter months there is an increased volume of water flowing through the drain due to rainfall and run off from agricultural land further along the drainage system," he said.
"The sand bar naturally forms in summer when the water leaving the drain is reduced and the low tides reduce the volume of water entering the drain.
"Opening the sand bar therefore allows more salt water to flow in to the drain to 'top up' water levels during the drier summer months, which helps to improve the water quality and the amenity of the drainage system."
Heavy machinery will be used to open the sand bar which will see a section of the beach closed for up to three days. The beach will still be accessible via a footbridge 100 metres upstream.
Water Corporation apologises for any inconvenience and asks beach goers to be cautious while work is carried out.
Did you know, in the South West Water Corporation operates and maintains:
More than 1,300 kilometres of drains across the Waroona, Harvey, Roelands and Busselton drainage districts
Two major surge protection structures in Vasse and Wonnerup
Three compensating basins
750 drainage bridges and culverts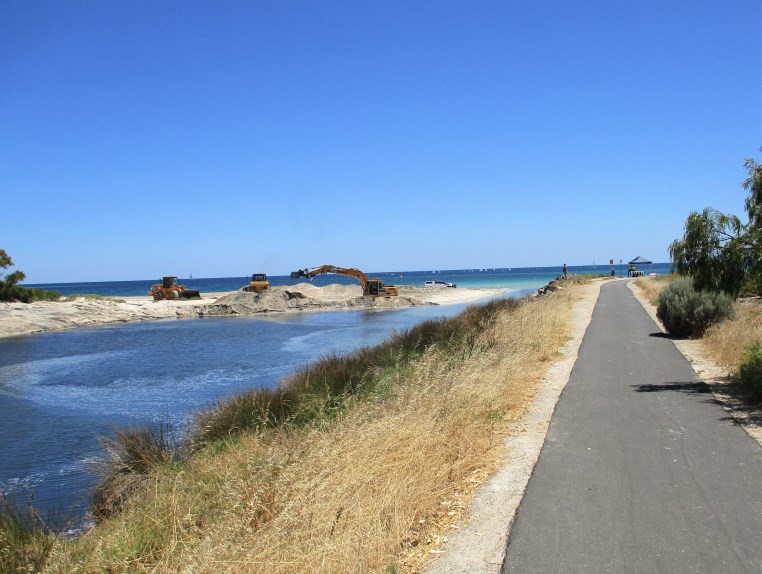 ---
Media Enquiries:
Contact: Janine Stewart
Mobile: 0408 918 531