02 Jul 2020

|

Media Release
Local governments leading the way towards a Waterwise WA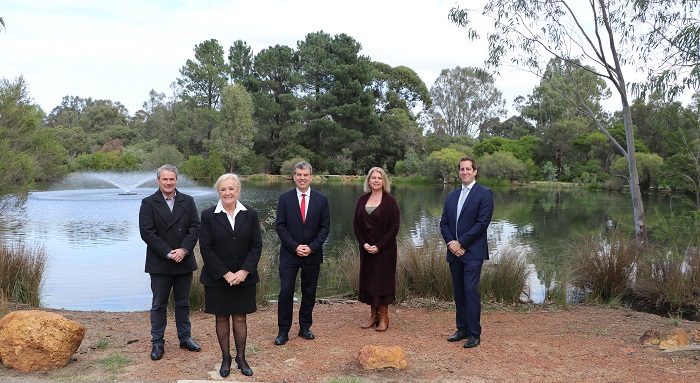 All 32 metropolitan local governments now participating in Waterwise Council Program
42 local governments across WA now endorsed through the program
Water Minister Dave Kelly has commended local governments for their commitment to developing sustainable, liveable communities and leading the way towards a Waterwise WA.
The Western Australian Government's Waterwise Perth Action Plan sets the direction for transitioning Perth to a leading waterwise city by 2030.
Today marks a milestone towards achieving the plan's targets, with all metropolitan local governments now participating in the Waterwise Council Program.
The program encourages councils to adopt waterwise principals with free education resources, data loggers to assist with leak detection and access to greening scheme funding up to $10,000.
The Minister extended his congratulations to the Town of East Fremantle, Shire of Peppermint Grove and City of Wanneroo for being officially endorsed as Waterwise Councils in 2020.
The Town of Cottesloe, Shire of Murray, City of Wanneroo and Shire of Serpentine Jarrahdale achieved Gold recognition for the first time in 2020.
Gold recognition is awarded for innovation and leadership in the pursuit of creating waterwise communities, with 22 metropolitan local governments achieving the standard. The Waterwise Perth Action Plan's target is for all metropolitan local governments to be recognised as Gold by 2030.
For the cities of Melville, Kalamunda and Kwinana, 2020 marks 10 years within the Waterwise Council Program. To commemorate this achievement, each will be presented with a sustainable park bench, designed and made in WA.
The Waterwise Council Program is a partnership between Water Corporation and the Department of Water and Environmental Regulation. For more information, visit www.watercorporation.com.au/Waterwise/Waterwise-programs/Waterwise-Councils
Comments attributed to Water Minister Dave Kelly:
"Thank you to local governments across Western Australia for continuing to show leadership to their communities through the Waterwise Council Program.
"Waterwise councils promote the valuable role of water in creating liveable, vibrant and healthy communities.
"It is especially pleasing to see all metropolitan local governments now participating in the program, marking an important milestone as we move towards targets in the plan.
"I encourage all local governments across Western Australia to commit to the Waterwise Council Program. Climate change is real and local governments have an important role to play in our State's waterwise future."
Minister's office - 6552 6700
Waterwise Council Program 2020 recognitions
Newly endorsed Waterwise Councils
Town of East Fremantle
Shire of Peppermint Grove
City of Wanneroo
Waterwise Councils recognised for 10 years as part of the program
City of Melville
City of Kalamunda
City of Kwinana
Waterwise Councils recognised as Gold for the first time in 2020
Town of Cottesloe
Shire of Murray
City of Wanneroo
Shire of Serpentine Jarrahdale
Waterwise Councils recognised as a repeat Gold in 2020
City of Bayswater (4 years)
Town of Victoria Park (4 years)
City of Vincent (4 years)
City of Kwinana (4 years)
City of Mandurah (4 years)
City of Cockburn (4 years)
City of Joondalup (4 years)
City of Perth (4 years)
City of Subiaco (4 years)
Town of Bassendean (3 years)
Town of Cambridge (3 years)
City of Canning (3 years)
City of Swan (3 years)
City of Rockingham (2 years)
City of Fremantle (2 years)
Town of Mosman Park (2 years)
City of Stirling (2 years)
Shire of Mundaring (2 years)