17 Jul 2020

|

Media Release
Native plants showcased at Bassendean community waterwise demonstration garden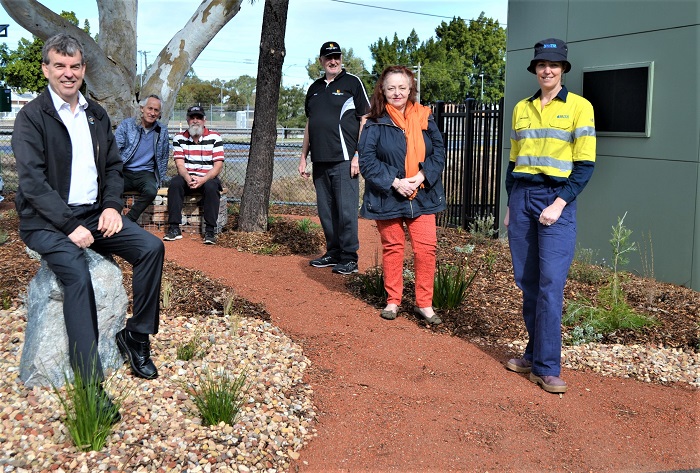 Inspires home gardeners to choose native waterwise plants that provide habitat for local fauna

Water Corporation funded project delivers on targets in the McGowan Government's Waterwise Perth Action Plan
The finishing touches have been made to Bassendean's first community waterwise demonstration garden, designed to inspire the use of native, waterwise plants around the home.
Located at the Bassendean Men's Shed, the garden's modern rustic design was selected by community members following an online vote attracting 120 submissions.
The garden reflects a natural landscape of native grass, small trees and rocks, with feature sculptures helping remind visitors of the importance of being waterwise.
As part of the project, Water Corporation is also transforming its adjacent drainage basin on the corner of Railway Parade and May Holman Drive. The basin will soon be planted with native vegetation to improve amenity, bank stability and increase biodiversity.
Funding for the project has been provided by the Water Corporation, and delivered in partnership with the Department of Water and Environmental Regulation (DWER), Town of Bassendean and Bassendean Men's Shed.
The project is part of Water Corporation and DWER's Drainage for Livability Program, which has transformed 16 stormwater drains and basins across WA into functional, sustainable sites.
The Drainage for Liveability Program is one component of the McGowan Government's Waterwise Perth Action Plan that sets the direction for transitioning Perth to a waterwise city, one that is cool, liveable, green and sustainable.
For more information on the Drainage for Liveability Program, visithttp://www.watercorporation.com.au/Our-water/Sustainability-and-innovation/Drainage-for-liveability
Comments attributed to Water Minister Dave Kelly:
"It is fantastic to see Water Corporation and DWER partnering with the local community to create a vibrant public space that showcases native, waterwise vegetation.
"I would like to extend my thanks to both the Town of Bassendean and the Bassendean Men's Shed for their involvement in this transformative project.
"Not only does the garden look great, it is also climate resilient, using plants that thrive in local conditions and require less water.
"In response to the impacts of climate change and declining rainfall, it's encouraging to see more Western Australians embracing waterwise gardening practices."
Minister's office - 6552 6100