07 Jul 2020

|

Media Release
Splashing around at City Beach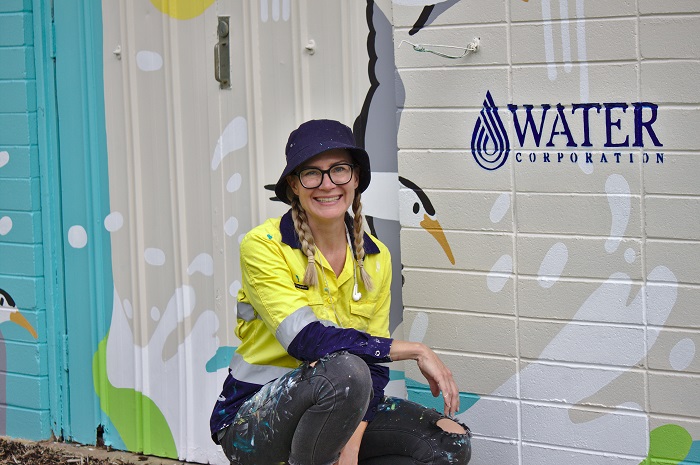 The coastline from City Beach to Floreat is the inspiration for a new public art project adorning an everyday water pump station in the Town of Cambridge.
Owned and maintained by Water Corporation, the pump station near Beercroft Park in City Beach has been brought to life by Perth artist Pippa Scheepers as part of the Corporation's Splash of Colour program.
Water Corporation Customer and Community General Manager Karen Willis said she was thrilled to see the pump station turned into a work of art the community could be proud of.
"The Splash of Colour program takes what were once fairly uninspiring and inconspicuous assets and gives them a new lease on life," Ms Willis said.
"It's all about adding value to the communities we live and work in, and not only reviving the asset itself but also contributing to the sense of vibrancy in the wider area.
"This particular project is one we've really been looking forward to. Pippa's design looks fantastic and draws inspiration from the area's natural beauty."
Pippa Scheepers said the design reflected the importance of water, and its connection to the community and environment.
"Being on the coast, water plays a big part in the lives of many who live in City Beach and Floreat and the design highlights the importance of water in the wider ecosystem and showcases the beautiful beaches, parklands and gardens in the area," Ms Scheepers said.
"The first thing people will notice with the mural is probably the Norfolk Island pines trees which run along West Coast Highway and are quite iconic."
The Splash of Colour Program was first trialled in the South West in 2017 and has since expanded as far north as Broome and south to Albany. Since 2017, Splash of Colour has transformed 45 Water Corporation assets across WA into vibrant, colourful public artworks.
Track the progress of the program on social media by following #splashofcolourwa.
Media contact:
Media Team
P: (08) 9420 2555
E: media@watercorporation.com.au
Follow us on Twitter @watercorpwa