06 Jul 2020

|

Media Release
Water Corporation competition brings extra perks to visiting and shopping in Fremantle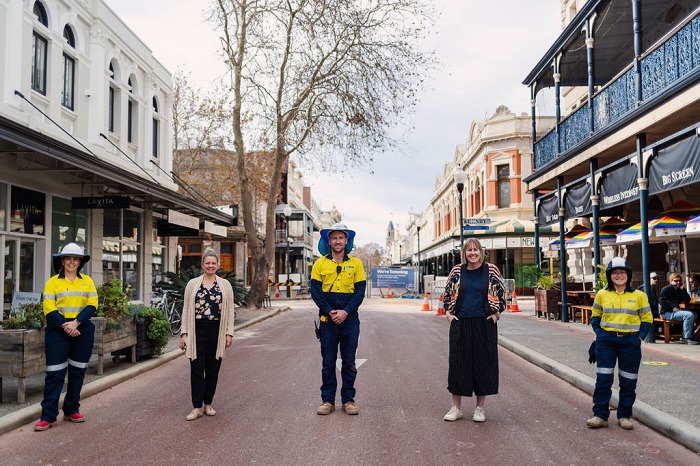 While essential construction work takes places below ground to replace ageing water mains in Fremantle, Water Corporation has been busy partnering with businesses above ground to encourage more people to visit Fremantle and shop local.
Water Corporation has joined forces with an array of local businesses near its Pipes for Fremantle and Fremantle Drainage works to launch its Fremantle Water Perks loyalty card competition.
The competition, which runs until the end of the year, encourages the community to shop in the heart of Fremantle for a chance to win monthly vouchers to spend at participating businesses. Entrants are simply required to get five 'water drops' on a Water Perks loyalty card, obtained by making purchases at participating businesses, to go into the draw.
High Street businesses have also banded together to create a 'High Vis on High Street' social media campaign to help pique the interest of shoppers. The digital campaign features photos of Pipes for Fremantle project members enjoying everything great that the High Street offers, from coffee to clothing, books, music and more.
Evan Hambleton, Water Corporation General Manager Assets Planning and Delivery, said Water Corporation had been working closely with the City of Fremantle and local businesses to together deliver exciting ways to help give local businesses a little 'perk' up.
"We hope these exciting initiatives encourage everyone to continue to support the wonderful Fremantle business community, and help spread the word that, behind the construction fencing, businesses are still definitely open for business," he said.
"We also hope these initiatives provide Fremantle businesses with a boost during these times by providing practical, yet fun, ways to make a difference on the ground."
Water Corporation is also supporting the City of Fremantle's 'Build your own toy - adventure trail' July school holiday initiative. Families are encouraged to collect an Adventure Trail map and go on a LEGO adventure down Fremantle's historic West End to collect LEGO pieces to build a toy.
For more information, visit https://yoursay.watercorporation.com.au/pipes-for-fremantle.
To chat to members of the project team in person, visit Water Corporation's pop up information centre at 66 High Street, Fremantle, now open from 10am to 4pm Tuesdays to Thursdays.
Media Team
P: (08) 9420 2555
E: media@watercorporation.com.au
Follow us on Twitter @watercorpwa