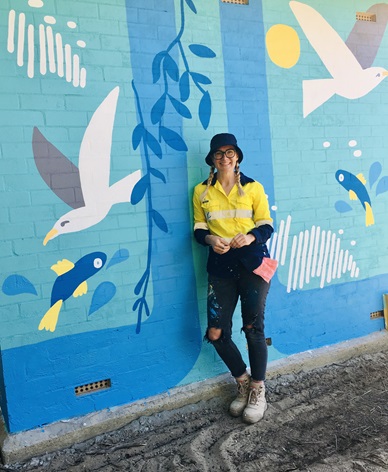 Everyday wastewater pump station in Mount Hawthorn given a colourful makeover through Water Corporation's Splash of Colour program
The pump station is one of more than 40 electrical cabinets and pump stations to be transformed into public artwork
The McGowan Government, through the Water Corporation, is transforming everyday water and wastewater pump stations and electrical cabinets into vibrant pieces of community art through its Splash of Colour program.
Local Mount Hawthorn resident and talented artist Pippa Scheepers was commissioned to transform the pump station adjacent to Lynton Street Reserve into a meaningful work of art for the community to enjoy.
The artwork is a lively scene inspired by flora and fauna at nearby Lake Monger and features fish playfully jumping from the water as well as Eastern Great Egret birds.
So far, more than 40 wastewater pump stations and electrical cabinets in Western Australia have been transformed through the program.
Track the progress of the program on social media by following #SplashofColourWA
Comments attributed to Water Minister Dave Kelly:
"It's fantastic to see the Splash of Colour program continue to enhance the liveability and vibrancy of local neighbourhoods while educating the community about the important role water plays in the future of Western Australia.
"I commend Pippa Scheepers on her fantastic work transforming this functional asset into something that is not only striking, but reflects the local community's connection to water.
"I hope the colourful community mural brightens the day of those who pass by, while serving as a reminder of the importance of conserving and protecting our water and waterways."

Comment attributed to Perth MLA John Carey:

"This mural project will lighten the whole park and make it a more attractive place to visit. It's a simple but effective boost."
Minister's office - 6552 6100