28 May 2020

|

Media Release
Water Corporation moves to greener fleet with electric vehicles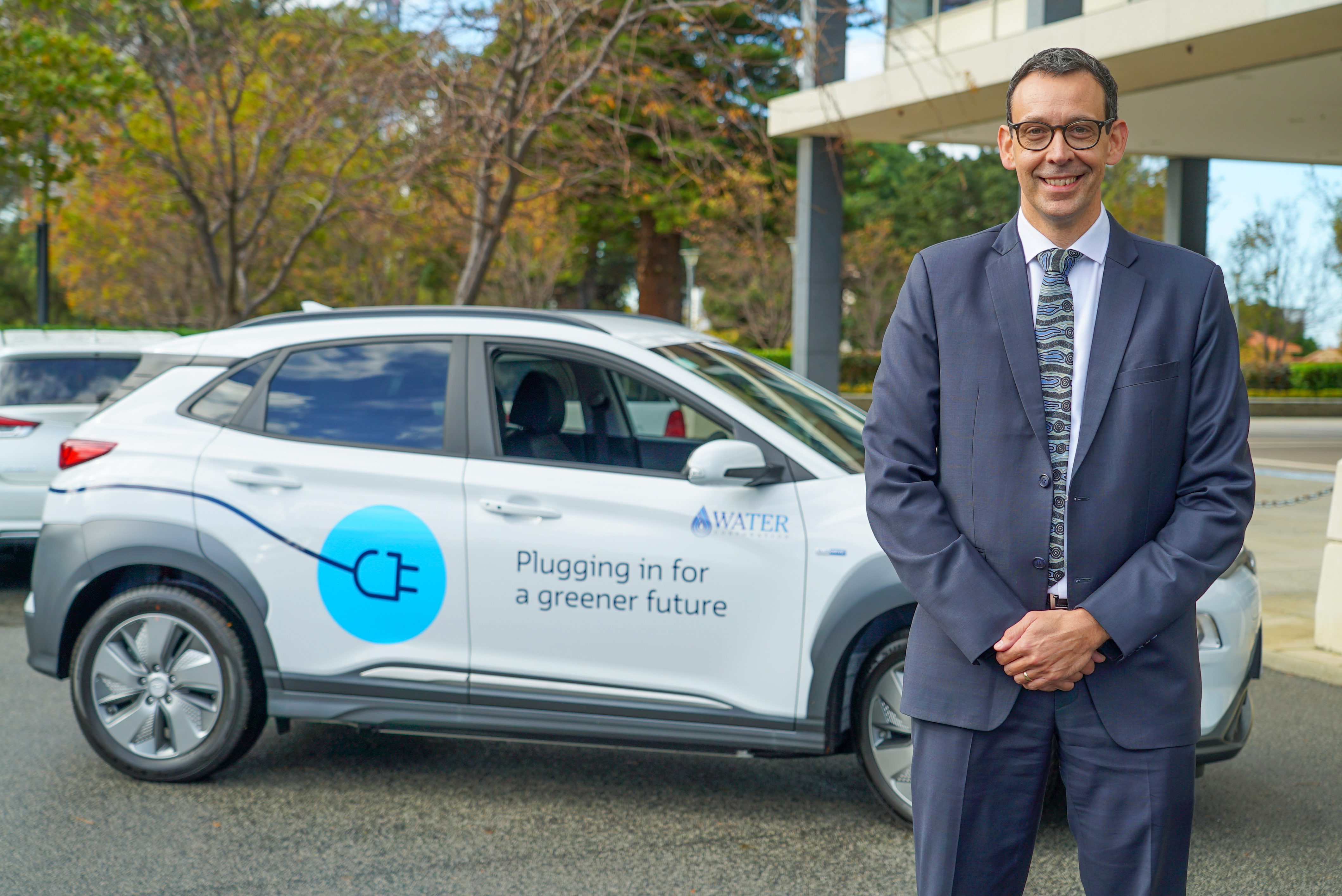 The first two battery electric vehicles have been introduced at the Water Corporation
Up to 40 per cent of Water Corporation's metropolitan passenger vehicle fleet will be replaced by electric vehicles over the next five years
Delivers on Water Corporation's continuing commitment to environmental improvement and sustainability
Water Corporation is today introducing two full-electric vehicles (EVs), the first of a wider commitment to further reducing carbon emissions and minimising its environmental footprint.
This is another step to Water Corporation achieving its target of becoming a zero net greenhouse gas emission utility by 2050.
Water Corporation currently has 102 passenger vehicles in its metropolitan fleet, including 30 hybrid EVs. Over the next five years, the Corporation will transition up to 40 percent of its metropolitan fleet to EV as existing vehicles in the fleet are renewed.
At the end of each EV fleet lease, vehicles will be turned over to the second hand car market. This will assist in building the second hand EV market in Western Australia; improving affordability and stimulating demand for model availability.
Two Hyundai Konas are now available to Water Corporation employees for daily tasks in the metropolitan area. These EVs are fully powered by an on-board battery and have the capacity to travel 449km on a single charge.
The EVs have a 5-star ANCAP Safety Rating and will also be future fitted with In-vehicle Safety Assist - a new Water Corporation system designed to promote safe driving behaviours.
Charging stations have been installed at Water Corporation's Leederville office to enable the vehicles to be charged when not in use. Further charging stations will be installed as the number of EVs in the Corporation's fleet increases.
Comments attributed to Water Minister Dave Kelly:
"The move to increase the number of EVs in the Water Corporation's fleet reflects their commitment to seeking out new and innovative ways of reducing its carbon footprint.
"I commend Water Corporation for its approach to responsible environmental stewardship, and being an early adopter in taking up EVs as part of its fleet.

"Water Corporation's commitment supports a Memorandum of Understanding (MOU) that I signed in 2018 on behalf of the WA Government with other Australian jurisdictions to identify opportunities to accelerate the uptake of electric vehicles."
Minister's office - 6552 5977