13 Nov 2020

|

Media Release
Aboriginal artists make a splash in Guildford for NAIDOC Week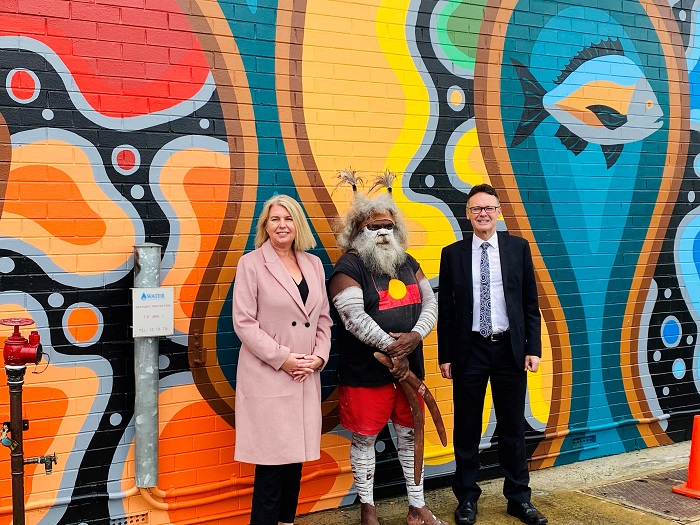 New public mural inspired by Noongar people's connection to water

Community collaboration included 16 workshops over more than 12 months

Water Corporation's Splash of Colour program has transformed more than 50 assets across WA into vibrant public artwork
Water Minister Dave Kelly has congratulated the artists and all other partners involved on the launch of a new public mural in Guildford inspired by Noongar people's connection to water. In a unique community collaboration, Aboriginal artists have partnered with Water Corporation and Community Arts Network (CAN) to transform a Guildford wastewater pump station into a vibrant and culturally significant public artwork.
Noongar artists Rod Garlett and Nathan Corunna worked alongside community artists Darren Hutchens and Lawry Halden to paint the Bridge Street station as part of Water Corporation's Splash of Colour program.
They were helped in the design and painting by around 20 members from the Moorditj Maaman Men's Group and Indigo Junction's Strong Fathers program.
Inspired by the Noongar people's deep connection to the area, the design features a Waugal, or rainbow serpent, which wraps around the building. According to Noongar dreaming, the Waugal's slithering body formed the Derbarl Yerrigan and Djarlgarro Beeliar - or the Swan and Canning rivers.
Silhouettes of Moorditj Maaman (strong men) are also prominent, reflecting the area's significance as a ceremonial site and the importance of strong role models in Noongar society.
CAN hosted 16 workshops over more than 12 months to gather community and stakeholder feedback into the design. This included extensive engagement with the City of Swan, local elders and local Aboriginal men's groups.
The project was funded by the McGowan Government through Water Corporation's Splash of Colour program, which since 2017 has transformed more than 50 assets into vibrant public artworks.
Comments attributed to Water Minister Dave Kelly:
"On behalf of the McGowan Government, I would like to congratulate all those involved in delivering what is an incredibly special and visually stunning project.
"The Noongar people have a deep cultural connection not only to this site, but to the lakes, rivers and wetlands right across WA's south-west. Through this project, we're telling the story of that connection and creating something the whole community can be proud of.
"Through Water Corporation, the McGowan Government has now created more than 50 Splash of Colour projects across the State, each delivered with the community and each telling an important water story."
Minister's office - 6552 6100