18 Nov 2020

|

Media Release
Eaton pump station site becomes canvas for striking new public artwork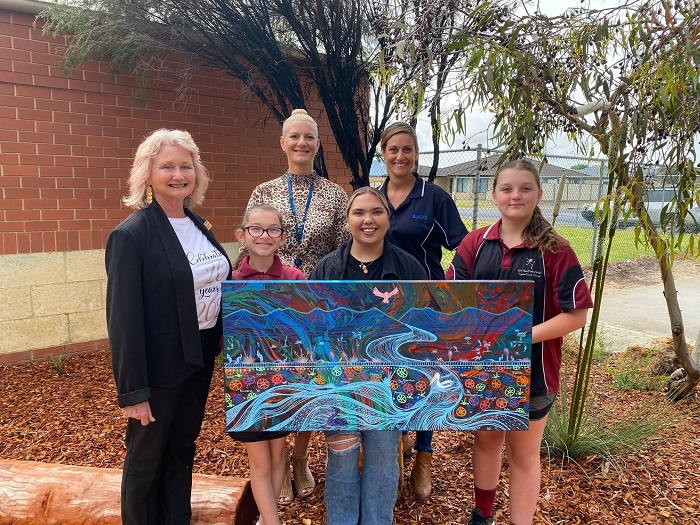 Students from Glen Huon Primary School in Eaton have teamed with local Wardarndi and Balardong Noongar artist Tahlia Bennell and Water Corporation to transform an everyday wastewater pump station into a vibrant public artwork.
As part of Water Corporation's Splash of Colour program, Year 6 students recently took part in a cultural workshop with Ms Bennell where they learnt about Traditional Owners' connection to local waterways.
Students also had a hand in helping design a 55-metre banner that will wrap around a Water Corporation site on the corner of Monash Boulevard and Eaton Drive.
The banner, which features native fauna like 'koobolong –frog' and 'djildjit-fish, was today presented to the school during a special assembly to recognise NAIDOC Week and mark the school's 20th anniversary.
Ms Bennell, 21, said the final design was inspired by the importance of water in Aboriginal culture.
"Local Aboriginal people have a really strong cultural connection to the rivers, wetlands and waterways across the South West and hopefully people see this reflected in the mural," she said.
"Stories form a big part of Aboriginal culture, which is why it was fantastic to have the opportunity share Dreamtime stories with the students. The designs they produced were fantastic and really helped inform the final design."
Water Corporation South West Regional Manager John Janssen said in addition to beautifying otherwise ordinary assets, the Splash of Colour program promoted an important message on the role of water in our everyday lives.
"Through Splash of Colour, Water Corporation has now transformed over 50 assets across WA into incredibly striking public artworks," Mr Janssen said.
"As the name suggests, the program is all about injecting a sense of colour and vibrancy into communities, but it's also a way we can get people thinking about the importance of water in our lives.
"This project was a particularly special one and, on behalf of Water Corporation, I'd like to congratulate to Tahlia and the students and teachers at Glen Huon Primary School for their hard work.
"We hope that everyone passing along Eaton Drive will have their day brightened whenever they see the mural.
Splash of Colour was first trialled in the South West in 2017 and has since expanded as far north as Broome and south to Albany.
Track the progress of the program on social media by following #splashofcolourwa.
Media contact:
Janine Stewart
Senior Advisor - Customer & Stakeholder
P: (08) 9791 0412
E: janine.stewart@watercorporation.com.au
Follow us on Twitter @watercorpwa