28 Oct 2020

|

Media Release
$1.5 million investment in water efficiency flows into WA public schools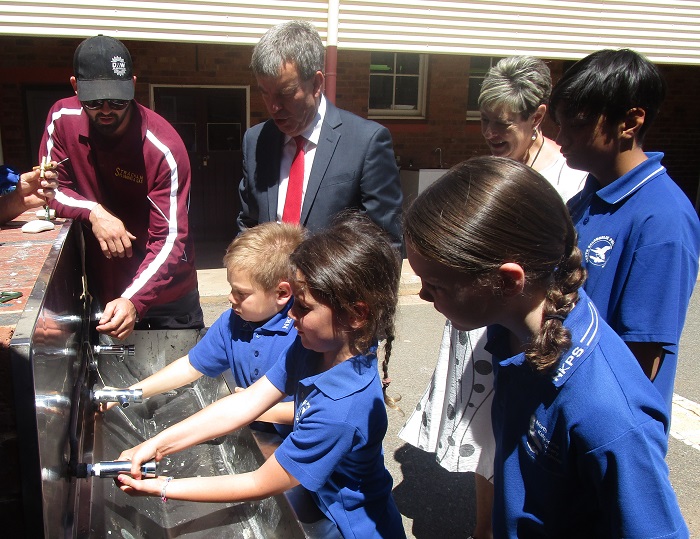 Kalgoorlie schools first to join new WA Recovery Plan-funded water efficiency upgrade program for public schools
Focus on using local tradespeople and suppliers while reinvesting in public assets
25-year anniversary of Waterwise Schools Program's curriculum-based learning
Public schools across the State are set to benefit from a new $1.5 million investment by the McGowan Government in water saving works, while providing opportunities for local tradespeople and suppliers, under the WA Recovery Plan.
Announced today by Water Minister Dave Kelly at North Kalgoorlie Primary School, Water Corporation's Water Efficient Public Schools Program will undertake upgrades in more than 50 public schools statewide over the next 12 months.
Potential works range from replacing toilets, urinals and drinking fountains, to more significant retrofits of irrigation and air-conditioning systems or even switching to alternative fit-for-purpose water sources.
Collectively, Western Australian schools consume approximately 4.5 billion litres of scheme water a year.
The program aims to reduce water use by up to 10 per cent per participating school, saving around 60 million litres in the first year and 840 million litres over the lifetime of the upgrades - reducing both water demand and school operating costs.
There will also be a focus on using local tradespeople and suppliers to carry out the program to maximise the local economic benefit.
In partnership with Department of Education, schools are being selected based on their water use with projects funded under the program planned to be completed by June 2021.
Where possible, Water Corporation will also offer the schools curriculum-based learning opportunities, via its Waterwise Schools Program. This award-winning initiative adopts a long-term approach to water education and behavioural change, particularly complementing STEM subjects - science, technology, engineering and mathematics.
North Kalgoorlie Primary School has participated in the Waterwise Schools Program for 25 years, which was also recognised by the Minister for Water during his visit.
Comments attributed to Water Minister Dave Kelly:
"Every drop of water is precious, particularly as we meet the challenges posed by climate change.
"I'm delighted that Kalgoorlie public schools are the first to join the Water Efficient Public Schools Program, funded by the McGowan Government's WA Recovery Plan. This $1.5 million investment will pay multiple dividends by saving precious water, reducing schools' operating costs and creating work for local contractors and suppliers.
"Schools are generally high water users but even simple upgrades like dual-flush toilets or water efficient taps make a big difference.
"The Water Efficient Public Schools Program is yet another really effective way the McGowan Government, through Water Corporation, is helping Western Australians conserve our most precious resource."
Comments attributed to Education and Training Minister Sue Ellery:
"This welcome investment in our public schools across the State will deliver significant, long-term cost savings, while also providing an opportunity to help equip students with the knowledge and skills to make good water use decisions in the future.
"North Kalgoorlie Primary School was the second school in WA to participate in the Waterwise Schools Program, so I congratulate them on reaching their 25-year milestone.
"Today, there are 584 schools involved in the waterwise initiative, involving 2,520 students during last week's National Water Week alone."
Water Minister's office - 6552 6100
Education and Training Minister's office - 6552 5700