19 Oct 2020

|

Media Release
New awareness campaign to inspire waterwise action at start of National Water Week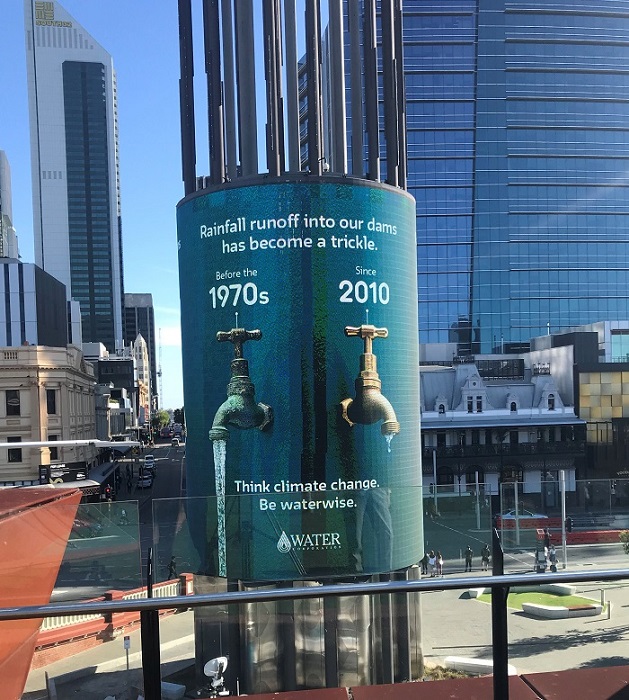 State Government, through the Water Corporation, launches new climate change and waterwise awareness campaign at start of National Water Week
Think Climate Change. Be Waterwise campaign to inspire action among individuals, communities and organisations to use water more wisely
Faced with the impacts of climate change and reduced rainfall, Western Australians are being urged to rethink their water use and reminded to practice waterwise habits as part of a new awareness campaign launched today by Water Minister Dave Kelly.
Launched on the first day of National Water Week (October 19-25), the Water Corporation's new campaign aims to educate the community on how climate change has reduced rainfall and impacted WA's water supply, how we as a State are responding, and what the community can do to keep up their waterwise practices.
WA's climate has changed significantly since the 1970s, with the State's south-west now one of the areas on the planet most affected by climate change due to declining rainfall. On average, we have seen a reduction of over 80 per cent in the amount of rainfall runoff into our dams compared to the 1970s.
While the Water Corporation continues to secure Perth's water supplies by adding more climate-independent sources to the mix, individuals, businesses, and governments all have a part to play in conserving our precious water resource.
This year's National Water Week theme is Reimagining our Water Future, which invites Australians to reimagine the way they use and reuse water to ensure there is enough for future generations.
The educational campaign launched today, encourages Western Australians to make small changes to their daily water use practices and incorporates the tagline Think Climate Change. Be Waterwise. The first part of the campaign will run until the end of December 2020 across print, broadcast and digital media.
The first television advert can be seen at https://youtu.be/M_7VQbWO9Fg
To find out how you can become involved in National Water Week, visit http://www.awa.asn.au/AWA_MBRR/About_AWA/National_Water_Week.aspx
Comments attributed to Water Minister Dave Kelly:
"Responding to the significant impacts of climate change on our water supply has never been more important.
"Perth has just experienced its fourth driest and warmest winter on record and, and with higher than average temperatures and decreasing rainfall in the south-west of the State, we all need to continue being waterwise in the home and workplace to help conserve this precious resource.
"While the State Government is responding to the impacts of climate change on the ground, it is the Commonwealth Government that ultimately needs to be part of the global solution by engaging with the international community on the issue, and taking real action to reduce the causes of climate change.
"Addressing climate change requires collaboration and action from everyone - by thinking about the impacts of climate change on our water supply, and being waterwise, we can make a real difference."
Minister's office - 6552 6100