04 Jun 2021

|

Media Release
Students celebrate as Yanchep Beach Primary School becomes WA's newest waterwise school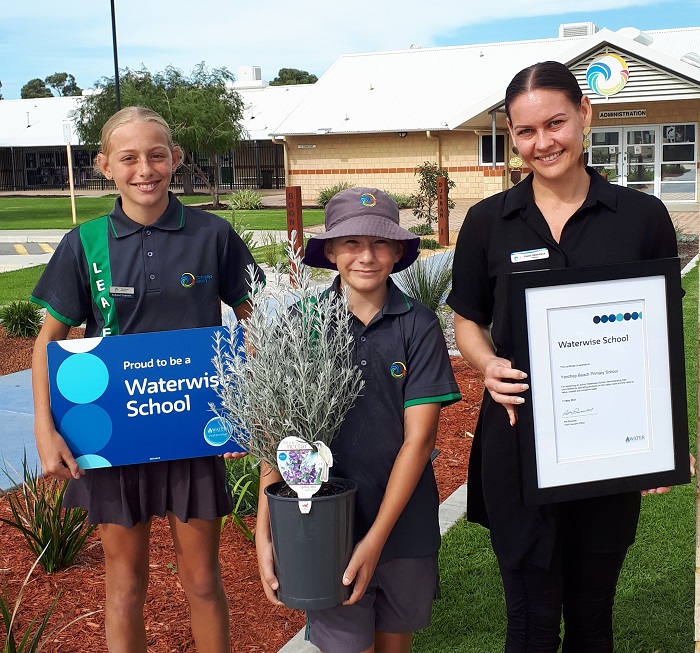 Yanchep Beach Primary School has been officially welcomed as WA's newest waterwise school with a special visit from Australia's first leak detection dog, Kep.
The school is the 568th endorsed under Water Corporation's Waterwise Schools Program, which promotes the importance of conserving precious water supplies.
Kep, who was specially trained to sniff out underground pipeline leaks, was joined by her handler, Andrew Blair, and members of Water Corporation's education team at a recent school assembly to mark the occasion.
Water Corporation General Manager Customer and Community, Karen Willis, congratulated Yanchep Beach Primary School for its waterwise commitment.
"It's fantastic to see staff and students embracing the waterwise message and learning about how we can all use less water," Ms Willis said.
"Due to climate change, we can no longer rely on rainfall alone for our drinking water. That means water efficiency is such a key part of ensuring reliable supply into the future.
"For 25 years, the Waterwise Schools Program has introduced children to the waterwise message and helped them develop waterwise behaviours which hopefully last a lifetime.
"On behalf of everyone at Water Corporation, congratulations to staff and students at Yanchep Beach Primary School and we look forward to visiting again soon."
Yanchep Beach Primary School's new Waterwise Coordinator, Katie Allardyce, said sustainability was a keen focus of its curriculum.
"As a school community, we've worked really hard to make sustainable changes to how we operate and to incorporate what we've learnt into lesson plans," Ms Allardyce said.
"A key part of becoming more sustainable is being waterwise, which is why we recently replaced many inefficient sink taps with waterwise alternatives.
"We've taken the data gathered by making this change and integrated it into STEM units to help students better understand the benefits of conserving water."
Further information about the Waterwise Schools Program is available from the Water Corporation's website at watercorporation.com.au/education
Did you know?
There are 586 waterwise schools across Western Australia – this represents over 55 per cent of schools across the State.

Now running for over 25 years, the Waterwise Schools Program takes a long-term approach to water education and behavioural change and complements the curriculum across all major learning areas.

Since 2007, nearly 300,000 WA school children have participated in programs run under the Waterwise Schools Program.
Media contact:
Media Team
P: (08) 9420 2555
Twitter: @watercorpwa